Here we are again, with the Autumn edition of our Newsletter.
A lot has happened since the last edition and one thing has not – our Village Bash. However, the Committee has been working hard to re-organise it and it is now scheduled for Sunday 19 September on the Recreation Ground. Please come along and give your support.
The Parish Council also re-scheduled the Annual Parish Meeting, and this was very well attended. We would like to extend out thanks to all the Presenters and to the Church for supplying the refreshments and to those who attended and had questions for the Presenters. The two main topics of concern were the planning application for the Radar Tower to be built on the Tactical Medical Wing site off Carterton Road, and Policing.
From this, we finally secured a Public Consultation Meeting with the RAF and Aquila, the company that will be installing the tower, which was held in the Elder Bank Hall on Thursday 26 August. Unfortunately, this has come too late to report on in this Newsletter, but we will share the details via our website and other social media platforms.
The second topic was around policing as recently there have been reports made to the Police about problems of anti-social behaviour and drugs. We are a small community and we do not want this sort of behaviour to increase. This is where we can all do 'our bit'. There is the opportunity for two initiatives to help with these, but they will not succeed if there are no volunteers and no support. Please don't read this and think "great – I'll leave this to my neighbours" Get Involved!
The first is a Neighbourhood Watch Scheme. Someone has already come forward to look at this and it is hoped that by the next Newsletter he will have something to share with us all. In the meantime, if anyone is interested in joining this initiative then please get in touch with me and I will pass on the details.
The second is a Neighbourhood Resilience Group. I will be meeting with our Community Police Officers to find out more about this and, again, if there is anyone interested in this initiative, then please get in touch with me.
The Parish Council was contacted by The Queen's Platinum Jubilee Beacons asking if we would like to be involved in lighting a beacon on 2 June 2022 in celebration of her Majesty's 70-year reign. Tony Shillingford has kindly volunteered to lead this and there will be further news about this in a later Newsletter. The Nation will come together for a four-day Bank Holiday weekend and there will be a programme of public events planned and communities are being encouraged to organise their own events as well. There will be more on this in the next Newsletter.
As well as all of this going on, the Council is also going through some changes. Ben Campion has resigned as Councillor and Alison Riseley has resigned as Clerk. We wish them both the very best of luck for the future and thank them both for their contributions during their time on the Council. We have welcomed David Golding onto the Council. David has lived in Brize Norton for nine years and we are sure he will be a valuable asset to us.
We still have a vacancy for a Councillor so if you are interested in local issues and would like to serve your community then please apply.
We are now back holding our monthly meetings on the first Monday of every month in the Pavilion and anyone is welcome to attend if they just want to come along and find out what is happening in the village or has anything they wish to bring to the Council's attention.
I'd like to finish by wishing you a great summer.
Until the next Newsletter!!
Wendy Way (Chairman)

BRIZE NORTON EVENTS
Come and join us for an afternoon of 'Disney themed' fun; things to do, to see, to eat and to drink! Why not join in our afternoon of fun in costume - our Disney theme includes Pirates to Princesses, from Ariel to Zazu!
Please get involved prior to the day by making a themed scarecrow and if possible to display it in your garden from Sunday 5 September to advertise the event. Then bring your scarecrows on 19 September to be judged and possibly win a prize – we are indebted to Bloor Homes

for simple rules and guidelines are in this newsletter or on the BNSA facebook page, but please do let us know you are entering so we can ensure we have room to display your creations at the entrance to our Recreation 'Wonderland'.
The fun starts at 2.00pm. We will have the usual stalls; raffles, tombolas, bric-a-brac, plant stall, cake stall, bar (with real ale), barbecue, 'Pimms and prosecco' stall, treasure hunt, year 6 games, bouncy castles and tea and cakes.
For your entertainment, we hope to include performances by Brize Norton Primary school children, static displays of vintage memorabilia, a model Spitfire and musical entertainment and additional entertainment to be confirmed – look out for details on social media.
We'd also like to get you involved as part of the entertainment too. Win a prize if your team competes in the 'cardboard box tower challenge' and builds the tallest Rapunzel's tower. We are grateful too, to staff from Nuffield Health who will be organising obstacle and other fitness related challenges.
We are asking you to get involved with two additional competitions this year which will be displayed in the Elder Bank Hall. Firstly, we would like children (reception to year 2 and year 3 to year 6) to enter our colouring competition. Pictures to colour will be sent out to children attending the Primary School otherwise contact bnsa_fundraising@outlook.com to receive a picture to colour.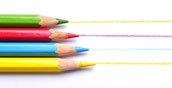 Or are you a gardener? – bring along and display a 'Freaky vegetable', it may be oversized, undersized, or mis-shapen – raise a smile! Bring your entries on the day.

Monetary prizes for winners of these competitions.
The event is a community event run by individuals from the village charities and the proceeds go to Brize Norton School Association, Brize Norton Sports and Social Club, St Britius Church, and Brize Norton Village Pre-school.
Look out for posters on the village noticeboards, through your door and for more information and updates on the school, social club and village social media. We would also like to thank Chancellors Estate Agent

for their support in advertising the event.

BRIZE NORTON SCARECROW COMPETITION RULES
The organising committee welcomes entries from residents and those living outside the parish to make and display a "Disney-esque", fantasy animated character scarecrow.
Families may enter more than one scarecrow. Ideally the scarecrow should be displayed in their garden location from Sunday 5 September to advertise the Village Bash. We ask that they are then brought to the event on Sunday 19 September at 2.00pm for judging.
First to third placed scarecrows will receive a monetary prize - we thank Bloor Homes for their sponsorship. Judges' decisions are absolutely final.
Prize winners will be announced and presentations made at the Village Bash about 4.30pm. Competitors are responsible for displaying their scarecrows at the event and are responsible for clearing away their own scarecrow by 5.30pm.

The scarecrow can be smaller but should not be larger than 2.0m wide x 2.0m high. All scarecrows should be constructed to consider the prospect of inclement weather. Entrants are reminded that this is a public event and all scarecrows must be made and displayed in good taste. The Committee reserve the right to withdraw any scarecrows that they deem unsuitable. An entrant designing their scarecrow to cause deliberate offence will be disqualified.
Scarecrows should be placed in a safe location and should be clearly visible from the road. They should be secured so that they will not blow away, and in a position that will not cause a danger, injury, or annoyance to others. The organising Committee ill not be held responsible for any damage to Third Party property caused by he creation or insecurity of scarecrows. Owners are held solely responsible for the safety and security of their scarecrow.

Photographs will be taken of the scarecrows and may be published on the Brize Norton Parish website to advertise the Village Day or used for other purposes after the event.
All entry forms must be submitted to Carolyn Peach before the day by e-mail cpeach.uk@btinternet.com or 52a Station Road, Brize Norton OX18 3QA.

BRIZE NORTON SCHOOLING
After an interesting year (to say the least), we managed a great end to the term.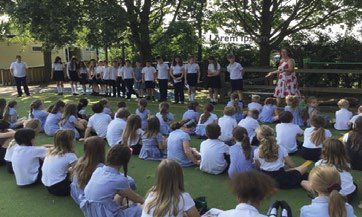 We still could not do the whole-school and community events which we enjoy in normal years, but we managed graduation ceremonies for our Reception and Year 6 children and a final outdoor whole-school assembly. Most importantly, all our Year 3 – 6 children were able to go on their residential visits.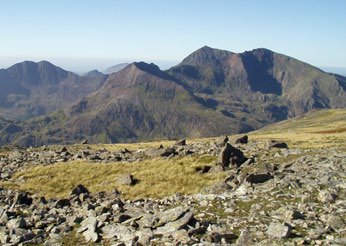 Our oldest children camped in North Wales for three nights, climbed up Snowdon in weather which was anything but sunny and came down with smiles on their faces.
I have been talking to the children a lot recently about "Type 2 fun". Type 1 fun is something you enjoy but forget about shortly afterwards, such as playing in the park. Type 2 fun is something different altogether, like climbing a mountain, staying away from home for the first time or tackling a tricky learning task: it may not feel like fun at all when you're act u a l ly doing it, but afterwards the sense of achievement is long-lasting and you have grown as a person. This is something we believe in strongly at Brize Norton School: the more Type 2 fun experiences a person has, the more able they are to tackle the next challenge.
"I am extremely proud of how the children, staff and families have thrown themselves into the constant changes required. I do believe we have come out stronger."
This last year and a half have certainly been a challenge for all of us. I am extremely proud of how the children, staff and families have thrown themselves into the constant changes required. I do believe we have come out stronger. As I write, we are in the middle of the summer holiday, planning for a more "normal" year next year whilst being ready for disruption if necessary. Whatever challenges the next year brings, we are ready, and we will be there with smiles on our faces.
Anna Anna Fairhurst (Headteacher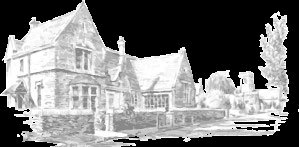 After 18 children left pre-school ready for primary school in July, we are now very much looking forward to welcoming all of our new children and their families to our pre-school community from September.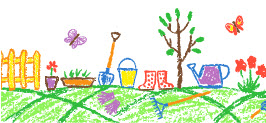 "A huge thank you to everyone who kindly donated towards the garden improvement project, your help and support have been greatly appreciated."

Over the holidays our new extended and improved garden has received a make over and will now provide a year round outdoor space for the children to use. A huge thank you to everyone who kindly donated towards the garden improvement project, your help and support have been greatly appreciated.

Pre-school remains extremely popular. Our waiting list for September 2022 is already very busy and we will need to be closing this over the coming weeks. If you would like to add your child to our waiting list please complete a form on the 'registration' page of our website www.br i z e nor tonpr e s c hool . co. u k , email or call us on 07769 617 696.
Pre-school operates from the Elder Bank Hall and offers spaces for 2, 3 and 4 year olds Monday - Thursday, 9.00am - 3.00pm and Friday 9.00am - 12.00pm during term time only. Funding is available, subject to terms and conditions. Details can be found on our website.
Pre-school will be running a Pimms & Prosecco stand at the Village Bash in September, come along and support this community event.
Jackie Jackie Hampson (Manager
Firstly I would like to thank all those people who attended our AGM back in July. It was a successful evening and with the new committee we can look forward to a bright and enjoyable future.
There are still one or two items that have to be overcome but with the knowledge that a new pavilion is going to be built in a couple years or so, we can now plan to get ideas in place.
The new committee is a great cross section of the village, with members concentrating on various ideas, a new tennis club, social nights, improving the facilities and so on.
The tennis club is something which is perhaps a slow burner at the moment as we have to raise a considerable amount of money to have the existing court re-surfaced. But please don't be put off by that, if you have an interest in tennis, then please do get in contact. It will definitely help with grant applications.
The S&SC via the Football Club have been joined by the 'Walking Football' members, which is a great addition to the club. Now we need to cultivate a junior section! This is much more of a headache as it needs qualified people to run it. Again, this is something that will grow slowly when we get everything in place. But if you can help in anyway then please get in contact.
Now for the social side…
You may recall last month we held a family day event for the RAF, which turned out to be a very successful day – and put some money in our bank! Thanks to all who helped out on the day.
Our next venture is another family day but this time it's Rounders. The date for your diary is Sunday 12 September. Full details will be available from HBC but basically it's a chance for families to take on other families in a game of rounders! Simple. Equal teams of 6 to 8 will compete for gold, silver, and bronze medals. Actually they will be tokens for the bar/café!
Still very much worth winning! If you would like more information please do let us know.
The bar and café will be open to help you stay refreshed for the games.
Come around for rounders and buy a round…
The following week Sunday 19 September is the Disney themed Village Bash. Postponed from 2020 and this July, its now back, with a BANG. Please read the article in this newsletter for all the details.
Interesting times ahead, if you would like to know more or have any ideas you wish to bring to our attention, please do let us know.
Many thanks
Tim Tim Gush (Chairman
Buy a

Also

On the 8 July, Brize Norton Football Club was 58 years old after being reformed by our President Fred Bellinger and Bob Watts.

The 2021/22 season will start on 4 September and the Club will be entering its usual two sides into the Witney & District League.

After the last two seasons being disrupted and voided due to Covid-19 we are hoping that this season will be back to some 'normality' and be completed.

Training started in July on Tuesday nights at The Rec and will continue through September with a 6.30pm start. In October we will move training to the Carterton ATP for the winter months (Time to be confirmed). All are welcome to training, players old or new. The club has, like many small clubs, been in danger of folding but we have kept going and are still putting two teams out each week.

A big Thank you to Jake Farrugia (1sts) and Adam Harris (Reserves) for running the two sides last season in very difficult circumstances and to the Committee for all their hard work.

Contact the Club: Website: pitchero.com/clubs/brizenortonfc

Facebook Group: Brize Norton FC

Twitter: @brizenortonfc