You are here: Community > Brize Norton > Parish Council Newsletter
Please note that this might not be the latest issue of the Parish Newsletter.
For a full listing and to find the latest issue click here.
Here is the text from the December 2008 Newsletter Published here with permission of the Parish Council.
| | |
| --- | --- |
| The NEWSLETTER BRlZE NORTON PARISH COUNCIL | BRIZE NORTON |
| December 2008 | Issue no. 119 |
---
CHAIRMANíS REPORT
Brize Norton Parish Council would like to wish all parishioners a merry Christmas and a happy and prosperous New Year.
FLOODING RISK
Please see produced below copy of a Public Notice recently published in the Witney Gazette. Discharge from the Burford Quarry has been linked as adding to the flooding risk in the following areas. Kilkenny Lane, Rocky Banks, Masons Arms, Carterton Road and Station Road Brize Norton.
The discharge has previously contained high levels of suspended solid matter which leaves a very unpleasant white residue along the path of the watercourse; this will undoubtedly have a detrimental affect on wild life. Brize Norton Parish Council considers this is unacceptable and will object to this licence being granted.
Should you share the views of Brize Norton Parish Council please write to the Environment Agency at the address below and make your objections known to the Environment Agency
K A GLAZIER
Chairman - Brize Norton Parish Council


ENVIRONMENT AGENCY
WATER RESOURCES ACT 1991
(AS AMENDED BY THE ENVIRONMENT ACT 1995
NOTICE OF APPLICATION FOR CONSENT
FOR THE PURPOSE OF SECTION 88

NOTICE IS HEREBY GIVEN in accordance with Schedule 10 of the Water Resources Act 1991 that an application has been made to the Environment Agency by Smith and Sons (Bletchington) Limited for consent to discharge a volume of rainfall dependent site drainage from an active mineral quarry to a land drain forming tributary of Brize Norton Stream at national Grid Reference SP 28095 09083 from Burford Quarry, Brize Norton, Oxford OX18 3NN.

Any person who wishes to make representations about the application should do so in writing to The Environment Agency, Water Quality Permitting Support Centre, PO Box 4209, Sheffield, S9 9BS, during the period 29/10/08 to 10/12/08 quoting reference NPSWQD004505.

Please be aware that any representations may be made available to third parties under the Freedom of Information Act or Environmental Information Regulations 2004.

A copy of the application may be inspected free of charge at the Local Environment Agency office at Environment Agency, Public register, Red Kyte House, Howbery Park, Crowmarsh Gifford, Wallingford, Oxon, OX10 8BD between the hours of 9 am and 4.30 pm Monday to Friday (not Bank Holidays).

GRANT WILSON
On behalf of The Environment Agency - Dated 29/10/08
POORS PLOT CHARITY
In the village we have a small charity. The money comes from rent for a field owned by the village.
At Christmas every pensioner and widow living in the village receives a small gift.
If you are not already on my list (on the list you would have received a gift last year) please let me know as I have no other way of finding out if you qualify.

Joy Douglas
4 Squires Close or 842373
ST BRITIUS CHURCH
Tower Project
The work on the Tower Project to bring water into the church and provide toilet facilities goes on apace. The walls of the toilet area in the tower are up and the wiring almost complete. The trench for the water has been dug and the pipe is in position. We are very grateful to the volunteers for all the time and effort they have put in: Mike Day, Stuart Finlayson, Mike Moreby, Andrew Spencer and Bob Watts.
Christmas Services
Our Christmas Services start on Sunday 21 December with a Candlelit Carol Service at 6pm. The nine lessons will be read by representatives of village organisations and all children are welcome to come dressed as shepherds, angels, wise men, people of Bethlehem, etc, for the nativity tableau. Please contact Carolyn Peach on 844102 for more details of the nativity tableau. Coffee and hot mince pies will be served after the service.

Candlelit Midnight Mass will be at 11.30pm on Xmas Eve (Wednesday 24 December) and there will be a combined Family Service and Holy Communion at 9.15am on Xmas Day. Roy asks the children to bring a present that they have received with them to show!

The Sunday Club will hold their Christmas Party on Saturday 10 January in the Elderbank Hall, from 2.30 to 4.30 pm.

Our Christingle Service will be held on Sunday 1 February at 9.15 am as part of the Family Service. We hope to decorate the oranges in School on the Friday afternoon before.

Roy, Bill, Richard, the Churchwardens and members of the DCC wish everyone a very happy and peaceful Christmas.

BRIZE NORTON PRIMARY SCHOOL
It has been another busy term at Brize Norton Primary School. From the 3rd to 7th November we held our annual Arts Week. Our theme this year was ART PAST, PRESENT AND FUTURE. During the week the children learnt about a range of traditional and modern art techniques as well as looking at the work of various artists. Throughout the week the children were encouraged to consider themselves as artists of the future. The children worked with Peter Massey from the company Zantium to create a mosaic for the front of the school. The children were all involved in designing the mosaic and sticking down the 10,000 pieces needed. Our mosaic can be seen at the front of the school. It was hard work but great fun! In addition to this, Viv from Daisy Roots worked with the children and their parents over three days to design clay animals. At the end of the week we held an open afternoon for all the parents.
This term we have also started a Forest Schools project with our youngest children. Every week the children travel to a nearby wood to undertake learning activities. They enjoyed their first trip and certainly came back muddy!


At the end of last term the school established a partnership with Kibanga Primary School in Uganda. This is an exciting development for the school. This term the children in Year 5 and 6 have been preparing information to send to our friends in Uganda. In February Mr Smith and Miss Gerrard are travelling to Uganda to visit the school and set up a joint project.

Our School Association continue to provide a huge support to the school. Over the last year the association have raised over £5000 for our new computer network and recently have donated £500 towards the costs for Arts Week. Thank you to those of you who supported the successful Ladies Night recently. Our next School Association events are the Christmas Bazaar on Sunday 7th December 2 to 4pm and a Christmas Decoration evening on Wednesday 17th December.

Our school website http://www.bnschool.org continues to provide up to date information about school events.

All of the staff and children at Brize Norton Primary School would like to wish you a very Merry Christmas and a Happy New Year.

BRIZE NORTON OVER 60's CLUB
The club is open to Brize Norton residents past and present. We meet two times a month; one outing and one meeting. We have tea with home made cakes, thanks for June, Benita, Edna and Carol. We celebrated our 10th anniversary in October with a cake and wine.
We have 27 members and meet at 4 Squires Close. We recently enjoyed a musical show in Witney, a shopping trip to Coventry, a meal at 'The Trout' in Lechlade and Isobel Spencer gave an interesting talk on calligraphy. We look forward to our Christmas party with entertainment.
On Tuesday December 2nd we are holding a coffee morning 10.30 at 4 Squires Close, Everyone Welcome.
Next terms programme includes Tom Smith talking on the Cotswolds, visit to a bus museum, trip to Worcester, visit to the panto, meal out and a coffee morning.
Happy Christmas to all our members and friends.

Joy Douglas
842373
BRIZE NORTON VILLAGE PRE SCHOOL
This term we have welcomed our new children to the pre school. They have settled in very well. We would like to welcome our new Deputy Supervisor, Katrina McLeer, she is having a very positive impact on the pre school. Barbie, Kat, Julie and Anoushka have been busy implementing the new curriculum, The Early Years Foundation Stage and have been making a lot of new exciting changes to the sessions. A big thank you to all of you that supported our Harvest Festival. The children really enjoyed making bread and performing their concert. We will be promoting ourselves at the opening of the new community centre at Shilton Park on the 27th November. We would love to see you.

Our Christmas Concert and Fayre is being held at the Elderbank Hall on Thursday 18th December at 10.45. You are all welcome to join us. We are also planning a Children's Disco on the 19th December from 2.30 to 4.30 to raise money for the pre school. Children from the ages 2/1/2 to 3 are welcome. We still have spaces available for 2009/10 you are always welcome to visit, meet the staff and come and have a look around. Please ring Jo White, 01993 847548 if you have any questions.
YOUR VILLAGE POST OFFICE (AT YOUR SERVICE)
Did you know that your village Post Office provides all of the services listed below and lots more?
Traditional letter and parcel posting including next day deliveries and eBay services.
Banking - (Cash/Cheque deposits and withdrawal) if you bank with the following banks: Alliance & Leicester (Girobank), Bank of Ireland, Barclays, Cahoot, Clydesdale, Co-op, Lloyds TSB, Nationwide Building Society and Smile.
National Savings & Investment including Premium bonds, Pension bonds and Children Bonus Bonds.
Bill Payment - Most household bills including BT phone bills can be paid free of fees.
Foreign currency - generally commission free with 4 days notice.
Travel Insurance - Inland and overseas (provided on the spot).
Home Phone - Incentive to transfer your current home telephone service.
Household Home Insurance - Competitive.
Car Insurance - There is a £50 cash back on take up.
Mobile phone Top-up.
Groceries - limited quantity of snacks and groceries too.
We have an ageing cliental at present and would very much welcome young parents to use our facilities. At a time when the post office network is under considerable threat, we need all the support that we can get. We need everybody using the post office in order to survive.
Michael your postmaster attends the Sports Pavilion on Tuesdays and Thursdays between 9.30am and 12.30pm.
Thank you for your continued support.
Michael
BRIZE NORTON DANCE CLUB
We meet every Thursday in the hall 7pm to 9pm. We enjoy a social evening of ballroom, latin and sequence dancing to CDs. Tea and biscuits included thanks to Mabel and Jean. We also hold:
SUNDAY TEA DANCES
2PM - 4PM IN ELDERBANK HALL

December 14th is a party dance with wine and mince pies. £2.50 each, profit goes to the Church Tower Fund. Do come to listen or to join in.

Next years Tea Dance dates are:

Sunday January 25th
Sunday February 22nd Arthur at the organ
Sunday March 29th

We wish you all a Happy Christmas.
Joy Douglas
842373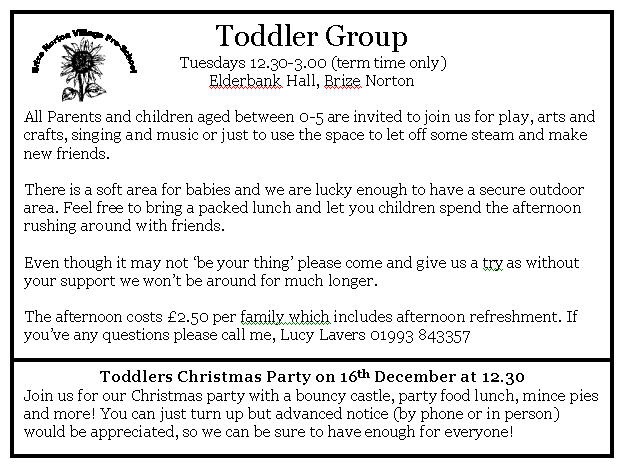 WOMEN'S INSTITUTE
The WI is getting out its crackers and sparkly lights so that, in common with the rest of the village, it can celebrate the national festival that is now Christmas. In other words, we are going out to lunch.

We have a full programme of speakers in the New Year and in addition we have two events which will take us to the wider aspects of our organisation. In April we are helping to host the local Group Meeting. Group Meetings now take place over in Clanfield, where our sandwiches and cakes will doubtless be munched with appreciation. At the last Group meeting in October we had a really happy meeting when the co-writer of The Vicar of Dibley took us through some of the memorable moments of this and other comedy shows and left us feeling that laughter is the best prescription against autumn's longer nights.

We already know that we shall be responsible for representing two of three local WI's at the National get together at the movement's AGM in Albert Hall. This is always a good meeting - a long day with a plethora of excellent speakers and some serious resolutions on the topics we have deemed worthy of action.

Our numbers have increased by a goodly number of very welcome members this year - but we always have room for more. 7.30 at Elderbank Hall on the second Tuesday in the month. Remember? Or come a bit earlier so that we can say hello properly.

Nearly forgot another great meeting. Eight of us went to Oxford's Town Hall to be entertained by Ann Widdecombe in a bravura performance, covering her life both in and out of parliament. I for one am glad I did not miss it.

Hazel Goldman
BLOOD DONATION SESSIONS FOR 2008
Tuesday 23rd December - 1.30pm to 3.25pm and 4.15pm to 7.15pm

All sessions are held in the Elderbank Hall. For further information please contact the National Blood Service on 0845 7 711 711 or visit their website www.blood.co.uk.
BRIZE NORTON PRIMARY SCHOOL
IS LOOKING TO APPOINT
A CARETAKER FOR 10 HOURS A WEEK

A TEACHING ASSISTANT INITIALLY FOR 10 HOURS A WEEK

If you would like more information please contact the headteacher on 01993 842488
MUTTS CUTS DOG GROOMING
Bathing, Grooming, Trimming, Clipping, Hand Stripping, Ears & Nails.

Well equipped salon in Brize Norton. Telephone 01993 840890 or 07899 938938
All entries for inclusion in the December issue should be received by the 15th February.
BRIZE NORTON PARISH COUNCIL
Chairman: Keith Glazier (843640)

Vice-Chairman: Christine Naus

Councillors: Erica Conlan, Fred Bellenger, Stuart Guest, Garry Griffin, Richard Wargent

Clerk to the Council: Jo Webb, 18 Chichester Place, Brize Norton

(840890)

Parish Representatives:-

Oxford County Council: Jim Couchman, Dovecot House, Langford (01367 860289).

WODC: Verena Hunt, 2 Rocky Banks, Brize Norton (841853)

Meetings held in the Pavilion, first Tuesday every month at 7.30 pm, all welcome to attend.
USEFUL CONTACT NAMES
| | | |
| --- | --- | --- |
| Organisation | Contact | Telephone No. |
| | | |
| The Church | Roy Turner | 844175 |
| The School | Mark Smith (Head) | 842488 |
| School Governors | Tracy Barnett | 850471 |
| Football Club | Fred Bellenger | 841189 |
| Ladies FC | Jenny McDowell | 07894 495500 |
| Cricket Club | Tim Gush | 846730 |
| Elderbank Hall | Diane Davies | 843430 |
| Horticultural Show | Chris Thorne | 842013 |
| Womenís Institute | Anne Hancock | 842197 |
| Post 0ffice Sports Pavilion | Tues & Thurs 9:30-12:30 pm | |
| Police (Carterton) | Mon-Tue 8.30-12.00 & 13.00-17.00 Fri close at 16.00 | 893951 |
ELDERBANK HALL ACTIVITIES
The following table lists only the regular events. There will be other bookings and readers should not assume
that the hall is available without reference to Diane Davies (see below)
| | | | | |
| --- | --- | --- | --- | --- |
| Pre-school (3-5 years) | Mon - Fri | 9 am - 12 noon | Jo White | 847548 |
| Brownies | Mondays | 6 pm - 7.30 pm | Mrs B Thorne | 842013 |
| Badminton | Mondays | 8 pm - 10.30 pm | Mrs Claridge | 843196 |
| Toddler Group | Tuesdays | 1.15 pm - 3.00 pm | Lucy Lavers | 843357 |
| Over 60's | 1st & 3rd Tuesday in the month | 3.30-5.30pm | Joy Douglas | 842373 |
| West Oxfordshire Woodturning Assoc | 1st Tuesday in the month | 8.00-10.00pm | Andrew Tinsley | 832041 |
| Women's Institute | 2nd Tuesday in the month | 7.30 pm - 10 pm | Anne Hancock | 842197 |
| Rainbows | Wednesday | 3.30-4.30pm | Mrs B Thorne | 842013 |
| Dancing Club | Thursdays | 7 pm - 10 pm | Joy Douglas | 842373 |
| Judo Club | Saturdays | 9.30 am - 11.30 am | Jonathan Gerrans | 01865 884339 |
| Karate | Sundays | 5.30 pm - 7.00 pm | Matt Webb | 840890 |
The Hall is available for Private Hire Contact:- Diane Davies on 843430
The Sports Pavilion is available for Private Hire:- Jo Webb 840890