You are here: Community > Brize Norton > Parish Council Newsletter
Please note that this might not be the latest issue of the Parish Newsletter.
For a full listing and to find the latest issue click here.
Here is the text from the December 2010 Newsletter Published here with permission of the Parish Council.
| | |
| --- | --- |
| The NEWSLETTER BRlZE NORTON PARISH COUNCIL | BRIZE NORTON |
| December 2010 | Issue no. 127 |
---
CHAIRMAN'S REPORT
Welcome to this seasonal edition of the Parish Newsletter. We appear to be settling in for another long cold winter. An early blast of freezing weather and snow could herald further problems with travel being disrupted and other difficulties being experienced. Please take time to consider the elderly, especially, if you are aware of anyone with mobility problems. An offer to collect some shopping or just a friendly chat would most likely be most welcome.
The forth coming activities detailed in this newsletter strongly reflect the Christmas season is upon us. Boundless enthusiasm from a host of volunteers make the many and varied events possible. Events to suit all age groups from Pre-school to over 60's are available for your enjoyment. The church services, of course are designed for all age groups with timings to suit.
I hope you will all keep safe, keep warm and enjoy the act of giving in this festive season.
On behalf of all Parish Councillors we wish you a very Merry Christmas and a Happy and prosperous New Year.
Keith
UPDATE ON THE LOCAL DEVELOPMENT FRAMEWORK/2026 PLAN
The latest draft of the Local Development Framework Core Strategy is due to be published in January 2011 and there will then be about six weeks for public consultation. This Plan will set out the overall development strategy for the next 15 years.
We, the villagers, need to make sure our views are heard, so look out for the news and be ready to take action if you wish to.
The Parish Council will keep you informed to the best of our ability.
WIDOWS FUEL ALLOTMENT CHARITY FIELD
We have a small charity in the Village which pays out a small gift to Pensioners & Widows at Christmas. If you haven't received a gift before & think you now qualify, please let me know before 10th December, after which time you will be on next years list. (Brize Norton residents only).
Fred Bellenger, 1 Daubigny Mead. 841189
ALLOTMENTS
In view of the growing popularity of the allotments, the Parish Council has donated a trophy for the best kept allotment.
The allotments will be assessed over the whole year by the Parish Council, with the results being announced and trophy presented at the Annual Horticultural Show in August.
2010 BRITISH LEGION POPPY APEAL
The total raised from the village collection amounted to £964.34.
Thank you to everybody, particularly the local businesses and house to house collectors.

Barbie Thorne
Honorary Village Organiser
ST BRITIUS CHURCH
Christmas Services
Our Christmas Services start on Sunday 19 December with a Candlelit Carol Service at 6pm. The nine lessons will be read by representatives of village organisations and all children are welcome to come dressed as shepherds, angels, wise men, people of Bethlehem, etc, for the nativity tableau. Please contact Carolyn Peach on 844102 for more details of the nativity tableau. Coffee and hot mince pies will be served after the service.
Candlelit Midnight Mass will be at 11.30pm on Xmas Eve (Friday 24 December) and there will be a combined Family Service and Holy Communion at 9.15am on Xmas Day. James asks the children to bring a present that they have received with them to show!
Our Christingle Service will be held on Sunday 6 February at 9.15 am as part of the Family Service. We hope to decorate the oranges at Church Farm House after School on the Friday afternoon before.
James, Bill, Jo, the Churchwardens and members of the PCC wish everyone a very happy and peaceful Christmas.

Friends of St Britius - Roof Project
Looking back at the Parish Newsletter this time last year it is hard to believe that we were only just beginning to fund raise for "Stop the drips at St Brits". It is awesome that one year later we have raised over £35,000; beyond our wildest dreams!
Our grateful thanks go to everyone in the village who has supported the numerous events and activities, to the Parish Council and to Foxbury Farm, the Chequers, and the Masons Arms for continuing support and above all to the very hard working Fund Raising Team who not only initiate the ideas but see them through to when the money comes in. Thanks are also due to the Grants Committee who have worked hard filling in numerous forms and answering emails. We are through to the second round of assessment with English Heritage and should hear just before Christmas if we are successful. Oxfordshire Historic Churches Trust has given us a grant of £8,000 and the All Churches Trust £6,000.
Please continue to support our forthcoming events. Known dates are, the Christmas Bazaar in church on Thursday 2 December from 6.30 pm and the "Raise the Roof" concert in church on Saturday February 5th at 7.30 pm (see posters for details of these two events), "Opera in the Garden" at Grange Farm on Friday 14 May and the St Brits Ball at Witney Lakes on Friday 17th June, but also look out for other events still in the planning stage.
BRIZE NORTON PRIMARY SCHOOL
It only seems like yesterday we were busy preparing for a new school year and now it is nearly Christmas. The time certainly flies when you are having fun!
At the start of the year we welcomed fifteen new children into our Foundation Stage class and one or two children into other year groups. Our ethos is to ensure a sense of belonging, learning and succeeding. All of our new children have been helped to settle into school by our very caring community. They are working and playing very well and have celebrated many successes already this year.
This term we have been working on an exciting whole school topic, 'The Case of the Missing Painting'. This topic has focused on the painting 'The Room at Arles by Vincent van Gogh. After half term the children returned to school to find that the van Gogh room had been set up in the hall but were shocked to discover that one of the paintings that should have been hanging in the room had gone missing. We were very quickly visited by PC McCarthy who set the children their first challenge as detectives to find out who lived in the room and which painting was missing.
The children eagerly set to work researching facts about Vincent van Gogh, with the younger children producing story books about his life. The older children worked on the form of biography writing. In art the children worked on colour mixing and tried to replicate the style of van Gogh. The children used their observational features to paint self-portraits. By the end of the week the children had discovered that the missing painting was a self-portrait of van Gogh himself. PC McCarthy was very impressed.
The second challenge presented to the children was to work out who had taken the painting. This was introduced by a Forensics expert. All members of staff were to be suspects and were under close scrutiny by the children. The children carried out surveys and many science investigations to eliminate many of the suspects. This also required the Year 5 and 6 children to visit Burford Secondary School to use the lab, to distil soup amongst other things.
The topic has been enjoyed by all children and even the parents have not been able to stop talking about who took the painting. That question still remains!
This term our School Council have been working hard to make our school a fantastic place to learn. The children have helped produce a school improvement plan and have been busy planning charity events. For Children in Need the School Council organised a non-uniform day and 'Brize Has Got Talent' show, raising over £130. They have also helped organise a very special harvest festival and remembrance service at the memorial.
The School Association continues to ensure that events are planned for children, families and the community, raising important money for the school at the same time. Forth coming events include:
Christmas card making evening - 26th November 7.30pm (tickets by contacting the school)
Christmas Bazaar 5th December - 2 - 4pm.
As always you can keep up to date with all the exciting things we have been doing by visiting our school website at, http://www.bnschool.org.
BRIZE NORTON VILLAGE PRE SCHOOL
We have had a lovely first term and our new children are setting in well. We have been visiting our allotment and the Playbus each week which the children all really enjoy. Our new sandpit has been a massive success - we would like to thank Miles and Jake Jacobs for making it and Sharon Porter and Gary Barber for fitting it.
We are looking forward to all of our planned Christmas events including our Christmas Fayre and Family Disco which are open to everyone.
We are now on Facebook, please 'Like' us to be kept up to date with pre-school news and events.
Parent & Toddler Group
Since September only a handful of parents and toddlers have been using the group each week. As we have to pay for the hall hire for this session, it has been making a significant loss which Pre-School can no longer fund. We have therefore sadly decided to stop running the group. However if in the future there is a demand or we are able to secure a space with a lesser cost we will happily set it up again - please contact Lauren Jacobs (01993 841242) to register your interest.
Oxfordshire County Council Play Bus - Available to everyone!!
The Playbus visits every Monday afternoon from 1.30 to 2.30pm. If your child does not attend Pre School on a Monday afternoon you are very welcome to attend as the play bus is open to everyone. It is also open to younger children so please pop along and join in the fun!
Forth Coming Fundraising Events:
Christmas Fayre and Play are planned for 14th December 2010 from 12.00pm - there will be cakes, children's activities, tombola and much more.
Family Glow in The Dark Disco - 21st December 2010, 6pm > 9pm. £5 Adults, £3 Children, £15 per Family. Bring your own drinks and snacks (squash provided for the children) and have a lovely time.
We would like to thank the village community for your on going support of pre-school fundraising events, we appreciate every penny, each year the pre-school has to raise in excess of £3,000 and most of this comes from community support!
The pre-school offers sessions for children from 2 > 4 years as follows:
Monday AM 9am > 12pm
Monday PM 12pm > 3pm
Tuesday AM 9am > 12pm
Wednesday AM 9am > 12pm
Wednesday PM 12pm > 3pm
Thursday AM 9am > 12pm
Friday AM 9am > 12pm
We also offer a lunch club on Monday, Tuesday and Wednesday.
For enquiries, to come and visit us or for a prospectus please contact brizenortonpreschool@hotmail.co.uk or telephone during pre-school hours on 07769617696.
Lauren Jacobs
Brize Norton Village Pre-School Chair
lauren@laurenjacobsmakeup.co.uk
01993 841242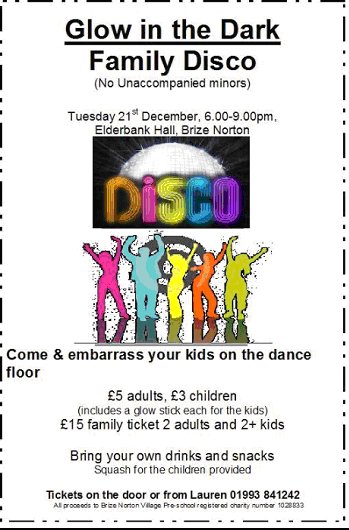 BRIZE NORTON OVER 60's CLUB
We are looking forward to our Christmas party with entertainment. Father Christmas will visit. The party is on December 21st at 2.30pm.
Next year's programme is:
January 18th Cliff to play the keyboard
Sleeping Beauty at Witney (date to be confirmed)
February 1st Meal out
February 15th Coffee Morning 10.30am. Everyone Welcome
March 1st Maureen McKreedy. A lock keeper
March 14th till 18th Bournemouth holiday
April 5th Coach trip
April 18th Speaker Tom Smith
The club is open to village residents. Meetings and outings 2.30 - 4.30 at 4 Squires Close.
Thanks to Edna, Carol, Benita and June for our lovely homemade teas.
Two of our ladies would like to retire. Is there anyone who would like their place?
Contact Joy on 842373
WOMEN'S INSTITUTE
We had two extra mouths to feed at our September meeting. Reuben, or one of his relatives, had originally flown from Asia to give us a performance in Elder Bank Hall while Spook preferred to be nearer to home where he could make his home in a convenient barn. They were the loveliest owls who swooped magnificently from one end of the hall to the other, to perch on their trainer's arm and accept the bit of chicken, with which they were rewarded....Chrissie, their trainer, had rescued them when they were wounded. Rather fortunately they came on the same evening that Burford WI was joining us for the meeting so we all enjoyed the owls' prowess.
Also in this period we had a fascination demonstration of make up, with lots of tips, as well as a Group Meeting with a larger audience who heard about some adventures of a theatrical landlady.
And to complete the year we have our Christmas meeting in December at Denman College, the WI's own teaching centre which is down the road at Marcham.
Hazel Goldman
STEP & CONDITIONING CLASS
Wednesdays 8-9pm at the Elderbank Hall, all levels welcome.
Steph Hill (steph_fitness@hotmail.co.uk 07970831061)
BRIZE NORTON DANCE CLUB
We meet every Thursday 7.30 till 9.30. We dance ballroom, latin American and sequence dances. Only £2 each.
Jean and Mabel provide us with tea and biscuits.
We have a TEA DANCE
Sunday December 12th
2.30 till 4.30. £2 each.
BRIZE NORTON IN THE 1860'S.
1860. Report by Rev. George Fereman. 'Parochial Schools - None. Site recently promised. There are 3 private schools little better than Dames Schools held in 3 cottages. Mr Morley proprietor of Marsh Haddon Farm pays £5 a year to one of them. All are badly conducted and quipped. Population. Nearly 1,000 mostly agricultural. Some work in quarries. There are flourishing inns. No unemployment for those willing to work. Moral condition decidedly bad in the past and not good now. Much Dissent in lower orders and sometimes amongst the farmers - including the tenant of the Rectorial Farm. Baptists most favoured, a Meeting House built about 6 or 7 years ago.' The 'schools' mentioned would have been those of Mrs Mary Arkell, Mrs Elizabeth Smith and William James and his wife Mary Ann. The James's school would have been the Free School where 8 children were taught and was paid for by Mr Carter of Alvescot for the education of poor children- the payment coming from Marsh Haddon farm rent. Looking through the Census for 1861 we find Lower Haddon Farm 460 acres with 17 men, 7 boys and 7 women working on it. Church Farm had 320 acres with 8 men and 6 boys. Grange Farm 320 acres with 3 men, 3 boys and 2 women. Manor Farm 310 acres with 10 men, 5 boys. In the village there were over 150 farm labourers, 13 shepherds and 13 carters working on the farms. 21 stone masons in the quarries. To support the farms and to see to the needs of the villagers there were 7 carpenters, 4 blacksmiths, 6 shoe and bootmakers, 2 butchers, 4 dressmakers and tailors, 2 innkeepers and 3 malsters, 9 grocers and bakers and 5 confectioners. Women and younger children also worked on the farms when needed and even the elderly and infirm were put to work at home. Overseers of the Poor was administered by the church and they gave payment to paupers for such items as boots and clothing. This was Brize Norton in 1861 with no unemployment and self sufficient but accordingly to the Vicar 'Moral condition decidedly bad in the past and not very good now'! Could this be that he noticed that in the Baptism book between 1850 and 1860 18 illegitimate children were born in the village?
WENDY MORGAN

All entries for inclusion in the March issue should be received by the 15th February

BRIZE NORTON PARISH COUNCIL
Chairman: Keith Glazier (843640) Vice-Chairman: Garry Griffin (841616)

Councillors: Fred Bellenger, Stuart Guest, James Gillies, Lindsay Meeks. Laurence Taylor

Clerk to the Council: Jo Webb, 18 Chichester Place, Brize Norton (840890)

Parish Representatives:-

Oxford County Council: Jim Couchman, Dovecot House, Langford (01367 860289).

WODC: Verena Hunt, 2 Rocky Banks, Brize Norton (841853)

Meetings held in the Pavilion, first Tuesday every month at 7.30 pm, all welcome to attend.
USEFUL CONTACT NAMES
| | | |
| --- | --- | --- |
| Organisation | Contact | Telephone No. |
| | | |
| The Church | Rev James Maddern | 844175 |
| The School | Mark Smith (Head) | 842488 |
| School Governors | Tracy Barnett | 850471 |
| Football Club | Fred Bellenger | 841189 |
| Ladies FC | Jenny McDowell | 07894 495500 |
| Cricket Club | Tim Gush | 846730 |
| Elderbank Hall | Diane Davies | 843430 |
| Horticultural Show | Judy Gush | 842730 |
| Women's Institute | Anne Hancock | 842197 |
| Over 60's | Joy Douglas | 842373 |
| Post 0ffice Sports Pavilion | Tues & Thurs 9:30-12:30 pm | |
| Police (Carterton) | Mon-Tue 9.30-12.30 & 13.00-15.30 | 0845 8 505 505 |
ELDERBANK HALL ACTIVITIES
The following table lists only the regular events. There will be other bookings and readers should not assume that the hall is available without reference to Diane Davies (see below)
Pre-school (3-5 years)
Mon - Fri

Mon & Wed

9 am - 12 noon

12 noon - 3 pm

Lauren Jacobs
841242
Brownies
Mondays
6 pm - 7.30 pm
Mrs B Thorne
842013
Badminton
Mondays
8 pm - 10.30 pm
Mrs Claridge
843196
Toddler Group
Tuesdays
12.30 pm - 3.00 pm
Lucy Lavers
843357
West Oxfordshire Woodturning Assoc
1st Tuesday in the month
8.00-10.00 pm
Andrew Tinsley
832041
Women's Institute
2nd Tuesday in the month
7.30 pm - 10 pm
Anne Hancock
842197
Rainbows
Wednesday
3.30 - 4.30pm
Mrs B Thorne
842013
Dancing Club
Thursdays
7.30 pm - 9.30 pm
Joy Douglas
842373
Karate
Fridays
6 pm - 7.30 pm
Matt Webb
840890
Judo Club
Saturdays
9.30 am - 11.30 am
Jonathan Gerrans
01865 884339
The Hall is available for Private Hire Contact:- Diane Davies on 843430

The Pavilion is available for Private Hire:- Jo Webb 840890