You are here: Community > Brize Norton > Parish Council Newsletter
Please note that this might not be the latest issue of the Parish Newsletter.
For a full listing and to find the latest issue click here.
Here is the text from the December 2012 Newsletter Published here with permission of the Parish Council.
| | |
| --- | --- |
| The NEWSLETTER BRlZE NORTON PARISH COUNCIL | BRIZE NORTON |
| December 2012 | Issue no. 135 |
---
"Tis the Season of Ill Will"

A Short One act play

Cast
Scrooge
Head Planner
Other Scrooges
Other planners
More other Scrooges
Developers and landowners
Even More Scrooges
The Inner Circle of 5
Play subject: The ancient village of Brize Norton (A Domesday Listed Village)
Act One Scene One. (N.B. Only one of each, no option given by Scrooge Planners).
Scrooge: Let's rob Brize Norton of even more acreage; we have already given some to Black Bourton and three areas to Carterton. It does not matter if we said we would make the boundary of Carterton the Monahan Way and keep the land as a buffer to prevent further urban sprawl and coalescence. We are good at humbug!
Other Scrooges: Yes, Yes, it is the easiest option; let's rush it out before Christmas - perhaps we won't get too many responses as people will be getting ready for the holiday Season. This plan is only up to 2029, if we can push it through we can have an easy time for a few years. (Raucous laughter and cheers)
Enter right, Even More Scrooges all dressed in True Blue suits and rosettes
Head of Even More Scrooges: The Other Scrooges have come up with a cunning development plan. If we push this plan out for a very short consultation and with its limited options we can make ourselves believe we have completed a very difficult task which for no apparent reason we need to complete now.
The other four Even More Scrooges dutifully nod in agreement.
Head of Even More Scrooges: We can report all this to Fagan, the head of all true blue suits, and we will get lots of smarty points for Christmas.
More Other Scrooges: Good where can we threaten to develop next?
The End - Well Almost
The final act has yet to be written, the ending is really down to you. If you object to the planned 700 houses, and associated development please make your views known to West Oxfordshire District Council by 5 PM on the 19th December 2012.
E Mail to: planning.policy@westoxon.gov.uk
Online: www.westoxon.gov.uk/draftlocalplan
Write: Planning Policy, WODC, Elmfield, New Yatt Road, Witney OX28 1PB

You met some of the principal actors of this playlet on the 27th November 2012
CHAIRMAN'S REPORT
700 HOUSES
The very well attended meeting on Tuesday 27th November and the exhibition by
West Oxfordshire District Council resulted in a response from residents that was forceful and vociferous in the condemnation of the plan to build again in the parish of Brize Norton.

We must all maintain that enthusiasm which was so publicly displayed in the Elderbank Hall. We must make our presence and voices heard. You have verbally given your opinions to the "professional" planners and their voiced responses have not deterred you from the anger and bitterness of this gross example of "Bad Planning". We now need to translate the feelings of the meeting into positive action; volunteers to assist gave their names in at the end of the meeting. We now need to present our feelings to the West Oxfordshire District Council by e-mail and letter and also by letters to the press (Witney Gazette, Oxford Times and the National Press). Ring the local Radio chat programmes and make your voice heard.

The deadline for responses to this consultation is 5 pm on Wednesday 19th December. Please write now. We must show solidarity and like the "Widows Mite" every objection counts.

Look to Phil Holmes's web site www.savebrizevillage.org for ideas for your letters, however your individual thoughts should also be expressed. Read on for further information.
IT IS NOT A 'DONE DEAL'
Christmas
This magazine contains many reports and also details of activities which are still to take place. This demonstrates what a thriving and vibrant village community culture we have and strive to maintain for the benefit of all residents. To all those willing volunteers who administer and organise the sporting and cultural activities - THANK YOU.
| | |
| --- | --- |
| On behalf of the Parish Councillors and the Parish Clerk I wish you all a Merry Christmas and a prosperous New Year. | |

Keith
REPATRIATIONS
Details of repatriations are usually received on a Monday. Notices will be displayed on the village notice boards at the earliest opportunity. Further details may be found on the Oxfordshire County Council web site. Please note timings are always subject to change.
ST BRITIUS CHURCH

Christmas services
| | |
| --- | --- |
| Our Christmas Services start on Sunday 23rd December with a Candlelit Carol Service at 6pm. The nine lessons will be read by representatives of village organisations and all children are welcome to come dressed as shepherds, angels, wise men and little people of Bethlehem for the nativity tableau. Please contact Carolyn Peach on 844102 for more details about the tableau. Coffee and hot mince pies will be served after the service. | |

Candlelit Midnight Mass will be at 11.30pm on Christmas Eve, Monday 24th December, and there will be a combined Family Service and Holy Communion at 9.15am on Christmas Day. James asks the children to bring a present that they have received with them to show!
| | |
| --- | --- |
| | Our Christingle Service will be held on Sunday 3rd February at 9.15 am when the children will decorate the oranges during the service. |


James, Bill, Jo, the Churchwardens and members of the PCC wish everyone a very happy and peaceful Christmas.
Friends of St Britius - "Stop the Drips at St Brits" Roof Project
The church is cocooned in scaffolding, all the slates are off of the north face, vestry and chancel and the new slates are sorted and stacked in a safe place. The West Country Tilers are busy salvaging as many of the old slates as possible (not many!) and preparing the battening. The roof really is being restored just under three years since we started fund raising. Many, many thanks to all in the village who have supported and helped at the numerous events which have raised over £25,000 towards the total cost of nearly £400,000. We have had major donations from English Heritage, WREN, Oxford Historic Churches Trust, the Wolfson Foundation, All Churches Trust and the Garfield Weston Foundation. Thanks to all who have made donations, however small, they have helped us to achieve the total required.

One of the benefits of the "Stop the Drips" appeal has been the sense of community that it has inspired. The list of events over the past three years is long but Opera in the Garden, St Brits Ball, the Beer Festival, pub quizzes, and pancake, harvest and Safari suppers immediately come to mind. The Friends of St Britius will continue next year as we shall need monies for future projects: heating and bells, and we would like to keep everyone in touch with the progress of the roof restoration.

THANKYOU ....
| | |
| --- | --- |
| .. to all who attended the Macmillan coffee morning hosted by Christine Naus on Friday 28th September. Christine was able to forward ú100 to Macmillan Cancer Support from donations made on the day and from the sale of cakes and biscuits | |

BRIZE NORTON BADMINTON CLUB
We meet every Monday at The Elderbank Hall and play from 8 pm until 10 pm; all ages from teenage to active retired are most welcome. It cost just £2.50 per session.
For more details ring Tina on 842268 or Liz on 843196 or just come along to the hall.

BRIZE NORTON HORTICULTURAL SHOW
Thank you to all who entered in the horticultural show this year. To help you with the planning decisions of what to grow in order to enter next year these are the categories for 2013.
VEGETABLES
FLOWERS
Runner Beans
Beetroot
Carrot - Short
Carrot - Long
White Onion - from sets
White Onion - from seed
Red Onion - from sets
Red Onion - from seed
Garlic
Potato - coloured
Potato - white
Parsnips
Vegetable Marrow
Cucumber
Shallot - round
Shallot - long
Tomato
Cherry Tomato
Dwarf Beans
Courgette

Collection of 4 vegetables Rose - specimen

Rose - hybrid
Potted Fuschia
Pansies
African Marigold
Gladioli - specimen
Gladioli
Dahlia - specimen
Dahlia - decorative
Dahlia - Cactus
Dahlia - pom pom
Perennial Stems
Aster
Vase of 8 mixed - all different
Pot Plant - flowering
Pot Plant - foliage
Pot Plant -cactus/succulent


Looking forward to the results in 2013.

Judy Gush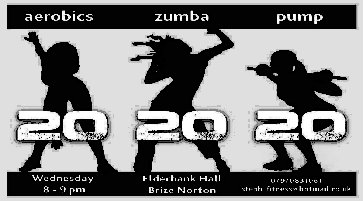 | | |
| --- | --- |
| BRIZE NORTON WOMEN'S INSTITUTE | |

We continue to enjoy some very good speakers. In September, Gita Konchak took us through the origins of body art which went back to the beginning of civilisation with different cultures using it as a status symbol and for decorative purposes. She then proceeded to the present time with it being very popular with young children and with students for their end of year Balls. One lucky member had her arm painted which was truly lovely.

In October Philip Dove entertained us with his love of stained glass. He took us back in time to the usual stained glass windows we are used to and progressed to present times with some very original works of art which he had done. Several members tried their hand at making a small piece which turned out to be harder than expected.

At the Cricket Festival in August we raised £60 which will be used to purchase bulbs to be planted in Manor Road next Autumn.
| | |
| --- | --- |
| | Looking forward, in December we will have our Christmas meal which will again take place at The Chequers where we were really well looked after last year and had an enjoyable evening. January's meeting is a general knowledge quiz and in February we are re-instating the 'Members Evening' which is when the members take over and the committee take a back seat which I am sure will be a good surprise. |

As you can see we do have some really good speakers and would love more of our community to join us. You do not need to join straight away as visitors are welcome to come to three meetings before they decide whether it is for them, so do come and give us a try.
Sue Calcutt
BRIZE NORTON DANCE CLUB
We have started again after the summer break. We meet every Thursday evening, 7.30 'til 9.30 pm in the Elderbank Hall. We do ballroom, Latin American and sequence dances to CD's. Thank you to Mabel and Jean who serve tea and biscuits in the interval.
We are looking forward to our Christmas meal on Sunday 2nd December. We wish a Happy Christmas to all our members.

For more information contact Joy on 01993 842373.
THANK YOU ... 2012 POPPY APPEAL
Thank you to all businesses and collectors for helping in collecting for the Royal British Legion Poppy appeal. The village total this year was £963. Thank you for all your donations.
Barbara Thorne
BRIZE NORTON SPORTS & SOCIAL CLUB
Although it now seems a long time ago the annual cricket, fete and horticultural show was a great success. Despite the weather trying its best to ruin the day we managed to get the finals played. Congratulations to all the winners and a big thank you to all who turned up to support and help. Much appreciated.

The pavilion is slowly improving; the showers and heating are being sorted out and we have had a very kind donation of some furniture from Wychwood Design, which included a large and very comfortable sofa. Many thanks to Ray and Tim Griffiths of Wychwood Design for thinking of us.

The cricket season is long gone but you may have noticed that a lot of hard work has been done on the playing surface. This renovation of the ?square? should see a vast improvement of the wickets for next year. Please try and keep off of the new grass, it would be much appreciated by the cricketers next season. Thanks.


| | |
| --- | --- |
| | It was also the first season of the S&SC Aunt Sally team. And what a season? organised and marshalled by Bob Watts the team have been promoted and had the highest number of ?dollies? (hits) in their league. Congratulations to all. If you fancy a game next year please do let us know. |

Next year will see the 50th anniversary of Brize Norton Football Club (see the Football section) we will be holding celebrations for this during 2013.

Finally, can I thank all the fundraisers and contributors, especially Nick Merriman whose help in this matter is outstanding.

Wishing you all a very merry Christmas and a peaceful New Year

Tim Gush
BNS&SC
WITNEY AND CARTERTON HEALTH WALKS
Witney
We meet at Witney's Windrush Leisure Centre at 10 am on Tuesdays, Thursdays and Saturdays. There is no charge. We do two walks; one is 1-2 miles long, the other 2-3 miles.
For more information contact Joy on 01993 842373.
Carterton
On Monday and Saturday we meet at the Town Hall, Carterton at 10am, and on Thursday at 10 am at the Leisure Centre, Broadshires Way. The walks are 1 ? 2 miles long.
For more information contact Barbara Goudal on 01993 845923
SAVE BRIZE NORTON

SAY NO TO THE EAST

SAVE BRIZE NORTON FROM FLOODING
WODC want your opinion as to if they have made the right decision to select the Eastern site. We need YOU to write, because, if not everyone writes, they will say that we do not care. We need to save our village from being consumed by Carterton. Coalescence is detrimental to us. This area, where they intend to build, was originally put aside by the planners to protect us from coalescence and merging with Carterton. Don't let them walk over us.
or
Write to: Planning policy, West Oxfordshire District Council, Elmfield, New Yatt Road, Witney, OX28 1PB
Your opinions must be with them
by 5pm on Wednesday 19th December

Please consider the following:

They think the proposal to site 700 houses in our village is the best option, but is it? Are 1,850 extra homes far too much for Carterton? Will it be a dormitory town with cars trying to get along the A40 every morning and evening? Will our village be overrun by the extra traffic? Will we experience more flooding? Could we lose our school?

The key to sustainability is protection of the long term well-being of FUTURE users of the strategy.

The houses will be:
1) Adjacent to the two largest maintenance hangars outside civilian airfields in southern Britain. The impact of the noise and light pollution that these facilities will have on the proposed eastern development is significantly worse than the noise and light pollution would be on the western development. Generally housing is located to the West and not East of major airfields as the noise is less, especially with the maintenance hangars being built on the eastern side of the airfield. Furthermore, the new aircraft is expected to be even noisier than the Hercules.

2) The Eastern site is more than 1,200m from the growing town centre of Carterton, whilst the west site is less than 800m from the centre. Moreover, the route to the town centre from the East site is through a light industrial /retail park, rather than across a natural conservation area. Future inhabitants are less likely to use sustainable transport means to travel to the centre of Carterton, through a light industrial park, than from the West through a conservation area. They suggest that the Eastern site would promote a thriving and inclusive community; surely not? Furthermore, the secondary school is very distant from the Eastern site being, on the West of Carterton.
3) In a river catchment that is already prone to flooding, and in which there is "no space for water". One of the key drivers behind Sustainable Urban Drainage Systems (SUDS) is the requirement to "Make Space for Water". The Shillbrook and the tributaries impacted by the west development are undeveloped and therefore there is land available to "Make Space for Water". There is no more space for water in the East and we, in Brize Norton, already flood. We suggest that the sustainability matrix that WODC published is clearly WRONG when it provides the east with a more sustainable score than the west for "Reduce the risk from all sources of flooding".
4) With a new primary school less than 1,000m from the existing Brize Norton Primary School, there is a very real risk that our existing school may have to close. Will we soon be forced into running a SOS (Save our School) campaign. There is spare capacity in the schools situated to the West of Carterton.

Why would you want to put so many houses in Carterton, 1,850 with all the associated problems? Cars, lack of local jobs and a desire for the families to work and shop in Witney and beyond, all mean that surely it would be better to site houses elsewhere in West Oxford, but definitely not here within our Parish?

We must not lose our village community spirit, which has shown itself to be so strong; for example, how we have all come together to raise money for our church roof.

We need everyone to be heard. Do nothing and the houses will come, let WODC and the Councillors know that they have chosen the wrong solution.

For further information and what further action you can take to make a difference go to the website www.savebrizevillage.org (see over for more details.

Go direct to www.savebrizevillage.org
or you can look at the Brize Norton link, http://www.brizenorton.org.uk/community/save_our_village
there are some great reasons why they should not build in the East.

It may just help you with more ideas to put in your letters to WODC. Furthermore; you can contact Phil Holmes if you have other ideas that may not already have been covered. Remember though, we need everyone in your house to write, Email or go online, to submit their opinion.

Let WODC know in no uncertain terms that East is wrong, and help SAVE BRIZE NORTON.

Correspondence with WODC planning department is key but also, if you can, please also consider writing to WODC cabinet members, WODC councillors, and Carterton Town Councillors with your views.
Their contact details are on the "ACT NOW" web page at www.savebrizevillage.org.
SAVE BRIZE NORTON

SAY NO TO THE EAST

SAVE BRIZE NORTON FROM FLOODING

BRIZE NORTON FOOTBALL CLUB
1st Team

The first team have had a bumpy start to the league season with a couple of heavy defeats, but the highlights so far have been the 4-1 victories over Hanborough Reserves and Hailey Reserves. The first team won a hard fought Oxfordshire Junior Shield second round match vs Carterton Rangers, 2-2 after extra time, going into the hat for the next round having won the penalty shoot out 4-3. The team is showing signs of improvement from the opening few weeks of the season and we look forward to the rest of the season.

Reserve Team

Not much good news for the Reserve Team so far this season; they have lost all of their fixtures except the goal fest vs Spartan Rangers Reserves winning the game 7-4.

Fund Raise/Social Events
The club has done some fund raising events to raise funds to improve the facilities at the Sports Pavilion. The Quiz night in September and the Darts competition in October were a success even if they did not raise a "king's ransom", but every little helps. Special praise has to go to Nicolas Merriman who has raised about £200 on his own - well done Mezza! The Pavilion bar is open after the Football club plays its home fixtures, which kick off at 2 pm on Saturday afternoons. Please come along and support your local club. You will find a friendly group of people, have a drink, see the sports results come in and you can find out about forth coming fund raising/social events.
It is the 50th anniversary of the formation of the football club in 2013. If anyone has any information regarding the 50 years of the football club - be it old newspaper reports, photographs, old memories and stories, medals etc, please let us know, either through the S&SC or Simon Cook and Adam Smith of the Football Club. Anything that could be donated to the club to help us to record the clubs first half century would be very much appreciated.
Adam Smith


BRIZE NORTON VILLAGE PRESCHOOL
| | |
| --- | --- |
| We have had a great start to the new academic year, with lots of new children starting in the setting and settling in well. We still have places available in most sessions for children aged 2 and over. Please contact Claire Davies on 07769 617696 to discuss places and arrange to visit. We are open Mon-Wed 9am-3pm and Thu/Fri 9am-12pm, with full and half day sessions available. | |

As we come towards Christmas, we have a number of events taking place to help us with fundraising.ˇ We held our annual Shopping Evening on 20th November, thank you to all who supported us.

| | |
| --- | --- |
| | We have our annual nativity play and Christmas Fayre on Thursday 13th December, and would love to invite everyone to come and see the children perform. Doors open at 10.50am with the nativity play at 11am. We are running a hamper raffle, tombola, cake stall and a children's lucky dip- stay and enjoy a cup of tea with us after the play. There will also be a small number of stalls selling Christmas gifts and other items. Any donations towards the tombola or cake stall will be very gratefully received. The preschool is always very thankful for the continued support of the community, and we hope you can join us to celebrate Christmas with the children. |

Please note we will be CLOSED from 12pm on Tuesday 18th December for the Blood Donor Session, and term finishes at 12pm on Friday 21st December. Our first day back is Tuesday 8th January 2013 at 9am.
Alex Skym
WIDOWS FUEL ALLOTMENT CHARITY FIELD
We have a small charity in the village which pays out a small gift to pensioners and widows (Brize Norton residents only) at Christmas. If you haven't received a gift before and think you now qualify please let me know by Sunday 9 December to be on this year's list.

Fred Bellenger, 1 Daubigny Mead 01993 841189
BRIZE NORTON PRIMARY SCHOOL
The new school year has been very eventful. We have welcomed seventeen new children into our Reception class and one new child into Year 3. All of our new children have settled into life at Brize Norton extremely well and have already been able to celebrate many successes.


This term we have also been able to celebrate the continued success of our school. Academically last year our children did better than ever before; seeing the school out-perform the majority of Oxfordshire schools and other schools nationally. This is a real reflection of the hard work and commitment of everyone in our school community: children, staff, governors and parents.
This term our shared value has been linked to "the giving of thanks". All of the children across the school took part in a lovely harvest festival at the church. Each class learnt about an aspect of harvest and presented this work at the church. We gave thanks by donating food items to the Stepping Stones Shelter in Oxford. At the beginning of November we focused on the theme of Remembrance. We held a moving assembly at the memorial where all of the children shared their thoughts and work completed in school.

The School Association continues to ensure that events are planned for children, families and the community, raising important money for the school at the same time.
Christmas Bazaar - Sunday 2nd December 1 - 3pm
Once again we will be holding our Christmas Bazaar, please come along and support the school. There will be lots of festive stalls, mulled wine, mince pies and of course a visit from Father Christmas. We will be holding a Grand Raffle with a Christmas Hamper as first prize.

Please help us boost funds with Easyfundraising.org.uk
If you're doing your Christmas shopping online, sign up to www.easyfundraising.org.uk/pta to raise funds for our school for FREE. Shop with over 2,000 well known retailers, including Amazon, Tesco, Argos and many more, and every time you shop, you'll earn a donation for our school at no additional cost to you. PTA's across the UK have already raised over £240,000 using easyfundraising.org.uk. And the more of us who use it, the more we'll raise - if just 100 parents sign up, we could generate over £3,000 in one year alone. It's really simple to do. Just visit www.easyfundraising.org.uk/pta, search for our school and follow the simple steps to sign up. It's completely free and it will raise vital funds for our school.

As always you can keep up to date with all the exciting things we have been doing by visiting our school website at http://www.bnschool.org.
TO ALL DOG OWNERS..
Are you aware that it is a legal requirement that a dog must wear a collar and tag with its owners name and address on it when out in a public place? You could be fined up to £5,000 if your dog is not wearing an identification tag.

WODC are organising a FREE microchipping service for your dog. Booking is essential and appointments can be requested for 14,18,28 or 30 January 2013 at
WFS Country Shop, Burford Road, Witney. Ring 01993 861020 or book online at www.westoxon.gov.uk/dogs
| | |
| --- | --- |
| | To the considerate dog owners who clean up after their dogs ? thank you BUT there are a few irresponsible and inconsiderate dog owners in the village who are allowing their dogs to foul the pavements, footpaths and open spaces. It is requested that all dog owners take responsibility and clear up after their dogs. |
BUYING WOODFUEL AND DIRECTORY OF WOODFUEL SUPPLIERS
(Information from The Oxfordshire Community Woodfuel Programme)
For anyone with a wood burning stove or fireplace, please help your wallet, your flue, and your local woodfuel merchants by being an informed buyer. The environmental advantages of using woodfuel decrease the further the wood has to travel. Aim to get your wood locally: try www.sylva.org.uk/myforest/, www.woodfueldirectory.org and www.coppice-products.co.uk. Unless stated otherwise, wood from garage forecourts or supermarkets is unlikely to be local.
-Kiln dried wood has been - as the name implies - heated up to drive off water. This heating process uses energy and reduces the environmental advantage of burning wood.
-Logs are generally sold by the load, but there is no specification of what a 'load' is.
Rules of thumb for purchasing logs include:
* Buy logs that have been dried for at least one year under cover, otherwise you may well get logs with a high moisture content, and spend much of the wood energy just turning this into steam. Alternatively buy freshly cut logs, which will be cheaper, and dry them yourselves for a year under cover.
* When completely dry, all wood produces roughly the same amount of energy per weight. However hardwood (e.g. ash, hazel, fruit tree) logs weigh more than softwood (pine) logs, and so produce more energy per log. A tonne of hardwood logs will take up less space than a tonne of softwood logs, and fewer 'top ups' of hardwood logs will be needed to keep a log stove running for a given time.
* Make sure that the logs are cut short enough to fit into your stove.
* Any logs that have a diameter of more than 10cm (8 inches) should be split.
* Look for certificates like HETAS and Woodsure, which guarantee wood quality.
- Consider buying woodfuel as a group.
The Oxfordshire Rural Community Council runs a community oil buying scheme, and may be able to provide advice on setting up a similar scheme for logs: contact them at oil@oxonrcc.org.uk. For any questions about woodfuel call Riki Therivel - 01865 243488, riki@phonecoop.coop. The Oxfordshire Community Woodfuel Programme.
BRIZE NORTON OVER 60's CLUB
Our past visits were to Moreton Market and Worcester. Some members enjoyed a holiday in Weymouth. The weather has been kind to us on these outings. We are looking forward to our Christmas lunch on December 18th at The Trout, Lechlade.
Our future programme is:
December 4th Cream tea - by popular request
December 18th Christmas meal at The Trout, Lechlade
January 15th Sing-a-long with Cliff
February 5th Meal at The White Hart, Minster Lovell
Friday 15th February Witney panto - Treasure Island
February 19th Meeting with Tom Smith speaker
March 5th Wydale Garden Centre, Bicester
March 19th Coffee morning
April 2nd Coach trip to Bath
April 16th Meeting with Roy Turner speaker

We are a small club for village residents. We meet at 2.30 pm on 1st and 3rd Tuesdays in the month at 4 Squires Close, if not on an outing. We enjoy a nice tea of sandwiches, tea and home made cakes provided by June, Connie and Benita to whom we give our thanks.
May I take this opportunity to wish everyone a Happy Christmas and good New Year.
For more information contact Joy on 01993 842373.
COFFEE MORNING
Tuesday 19th March 2012, 10.30pm at 4 Squires Close
Bring & buy and raffle EVERYONE WELCOME

YOUR VILLAGE POST OFFICE (AT YOUR SERVICE)
Did you know that your village Post Office provides all of the following services and lots more?
* Traditional letter and parcel posting, next day deliveries and eBay services.
* Banking - (Cash/Cheque/Bank card deposits and withdrawal) if you bank with the following banks: Bank of Ireland, Barclays, Cahoot, Clydesdale, Co-op, Lloyds TSB, Nationwide Building Society NatWest, Santander and Smile.
* National Savings & Investment including Premium bonds, Pension bonds and Children Bonus Bonds.
* Bill Payment - Most household bills can be paid free of fees.
* Foreign currency - generally commission free with 3 days notice, MoneyGram.
* Travel Insurance - Inland and overseas (provided on the spot).
* Home Phone - Incentive to transfer your current home telephone service.
* Household Home Insurance - Competitive.
* Car Insurance - There is £50 cash back on take up.
* Mobile phone Top-up.
* Groceries - limited quantity of snacks and groceries too.
| | |
| --- | --- |
| Michael your postmaster attends the Sports Pavilion on Tuesdays and Thursdays between 9.30am and 12.30pm | |
Thank you for your continued support. Season's Greetings to you all.

Michael
CALENDAR OF EVENTS - refer to newsletter for further information

2 December Christmas Bazaar - Primary School 1pm - 4pm
6 December WODC Local Plan road show noon - 6.30pm Carterton Town Hall
8 December WODC Local Plan road show 10am-1pm Community Centre, Shilton Park, Carterton
13 December Pre-school nativity play and fayre 10.50am Elderbank Hall
14 December Quiz night 7.30 pm, Pavilion, Brize Norton FC and BN&SC
18 December Blood doning, 2.30pm-4.30pm, 5.15pm-7.30pm, Elderbank Hall
19 December Close of consultation period on Local Plan consultation
23 December St Britius carol service at 6pm
All entries for inclusion in the March 2013 issue should be received by the clerk by
15 February 2013.
BRIZE NORTON PARISH COUNCIL
Chairman: Keith Glazier (843640) Vice-Chairman: Garry Griffin (841616)
Councillors: Fred Bellenger, Stuart Guest, James Gillies, Laurence Taylor, Pip Squire
Clerk to the Council: Carolyn Peach, 52a Station Road, Brize Norton (844102)
Parish Representatives:-
Oxford County Council: Jim Couchman, Dovecot House, Langford (01367 860289).
WODC: Verena Hunt, 2 Rocky Banks, Brize Norton (841853)
Meetings held in the Pavilion, first Monday every month at 7.30 pm, all welcome to attend.
USEFUL CONTACT NAMES
| | | |
| --- | --- | --- |
| Organisation | Contact | Telephone No. |
| | | |
| The Church | Rev James Maddern | 844175 |
| The School | Mark Smith (Head) | 842488 |
| School Governors | Tracy Barnett | 850471 |
| Sports & Social Club | Tim Gush | 846730 |
| Football Club | Simon Cook | 841096/07825 002298 |
| Ladies FC | Jenny McDowell | 07894 495500 |
| BN S&SC/Cricket Club | Tim Gush | 846730 |
| Elderbank Hall | Diane Davies | 843430 |
| Horticultural Show | Judy Gush | 846730 |
| Women's Institute | Shelagh Chatterton | 843136 |
| Over 60's | Joy Douglas | 842373 |
| Open Gardens | Judy Gush | 843730 |
| Post 0ffice Sports Pavilion | Tues & Thurs 9:30-12:30 pm | |
| Police (Carterton) | Mon-Fri 9.30-12.30 & 13.00-15.30 | 101 |
ELDERBANK HALL ACTIVITIES
The following table lists only the regular events. There will be other bookings and readers should not assume that the hall is available without reference to Diane Davies (see below)
Pre-school (3-5 years)
Mon - Fri
9 am - 12 noon
Alex Skym
07769617696
Mon, Tues & Wed
12.00 - 3 pm**
Brownies
Mondays
6 pm - 7.30 pm
Barbara Thorne
842013
Badminton
Mondays
8.00 - 10.30 pm
Mrs Morris

Mrs Claridge

843196

842268

West Oxfordshire Woodturning Assoc
1st Tuesday in the month
8.00-10.00pm
David Spittles
776036
Women's Institute
2nd Tuesday in the month
7.30 - 10 pm
Shelagh Chatterton
843136
Rainbows
Wednesday
3.30 - 4.30pm
Barbara Thorne
842013
20:20:20

Zumba

Wednesday
8 - 9 pm
Steph Hill
07970831061
Dancing Club
Thursdays
7.30 pm - 9.30 pm
Joy Douglas
842373
Karate
Fridays
6 pm - 7.30 pm
Matt Webb
840890
Judo Club
Saturdays
9.30 - 11.30 am
Jonathan Gerrans
01865 8843399
** Pre school opening hours
The Hall is available for Private Hire Contact:- Diane Davies on 843430