A belated Happy New Year to all residents as we start to think about events for 2019.
This may include an event to commemorate the 75th anniversary of D Day in June. RAF Brize Norton Squadrons played an important part in D day, carrying paratroopers and towing Horsa gliders. Many troops were billeted in tents on farmland around Brize Norton prior to 6th June 1944 landings. It would be a good opportunity to get the poppies on display again and decorate the village. Let Keith Glazier know if you have any ideas on possible celebrations.
The Village Bash is scheduled for 7th July and the 46th Horticultural show should be 25th August 2019 TBC. This year's Village Meeting on Tuesday 21st May at 7:30pm in the Elder Bank Hall.
Your Councillors have had regular meetings with Bloor Homes and WODC regarding the new development and overall the results are very positive with regard to improvements to footpaths, clarifications on parking and naming of streets. We are quite positive that we will have streets named after Brize Norton's Roll of Honour from World War One and have received permission from families for the names to be used. We will provide more information in the next publication. Those of you that have driven or walked past the entrance to Brize Meadow will have noticed the first houses are well under way.
A major part of this development is the construction of 700 houses and apartments of which 245 will be 'Affordable Rented' or 'Low Cost Home Ownership'. There is an agreement to build a mix of 185 rented and shared ownership homes initially, but a decision has still to be made regarding the final 60. These will either be 60 'extra care' apartments or an additional 60 rented and shared homes.
Our Neighbourhood Plan Community Survey indicated that at least 32 households or individuals within a household, were interested in purchasing their first property. If you are interested in renting a property, you will need to register with the Homeseeker plus scheme which is operated by WODC www.homeseekerplus.co.uk If you are interested in 'shared ownership' property, you will need to register with www.helptobuysouth.co.uk who work in conjunction with WODC. Further information can be found on the WODC web site www.westoxon.gov.uk/housing-links/buying-a-home. I hope this is of interest to future home seekers.
Tony Shillingford (Chairman)
As many of you will have seen, a company called Gigaclear has been installing fibre optic cabling to premises (FTTP) in the north of the village (Burford Road, Minster Road & Elm Grove).
Unfortunately, the rest of the village is not receiving this service and we have to continue relying on BT's fibre optic cabling to a cabinet (FTTC) which is situated on the south side of Carterton Road near the old vicarage and thereafter, the old copper cable (and some are a different material) network to our premises.
This means the further away from the cabinet we are, the worse our download speed. Many people have complained about slow download speeds or it is dropping out altogether at peak periods.
I have spoken to BT about these concerns and they have advised that there is a new initiative called 'Community Fibre Partnerships'. This is a scheme where the fibre to the premises (FTTP) is part funded by BT, the government (via a voucher scheme) and the householder. www.communityfibre.openreach.co.uk
However, the more people that are interested in this scheme, the greater the value of the vouchers and therefore the final cost to the householder could be the same, if not cheaper, than those using Gigaclear.
If we have enough members of our community who would be interested in obtaining ultra -fast broadband (a figure of 300Mbps has been quoted), we can register our interest with Openreach's Community Fibre programme. They will then be able to give us a more accurate idea of cost which could be as low as £100.00 per household. They would also come and discuss the project with us at our next Annual Village Meeting.
Ultra-fast broadband would allow multiple users to have simultaneous trouble-free access to broadband including live streaming.
If you are interested in joining this scheme, then please email our Parish Clerk to let us know: clerk@brizenortonparishcouncil.co.uk
If we can generate enough interest, I will register our community onto the programme.
Thank you,

Les Goble

Our gratitude goes to Fred Bellenger who has been mowing the sports field for over 50 years for us and has agreed to carry on for another year! However, he will be teaching another couple of people during this year just in case he fancies handing over for 2020.

Parish Council meetings are held on the 1st Monday of each month. Meetings are held in the Brize Norton Sports and Social Club, opposite the Elder Bank Hall and the public are welcome to attend.
The next meetings are:
Monday 4th March 7:30pm
Monday 1st April 7:30pm
Allotment meeting Monday 1st April at 7:00pm (payments from 6:30pm)
Monday 13th May 7:30pm
Annual Parish Meeting Tuesday 21st May 7:30pm Elder Bank Hall
Monday 3rd June 7:30pm
KNOW YOUR COUNCILLORS
We are pleased to introduce you to your councillors, with their key responsibilities.
Tony Shillingford - Chairman
Wendy Way — Vice-Chair
Andy Ball - Legal
Ben Campion – Liaison with West Brize Norton Development (Brize Meadow)
Les Goble – Neighbourhood Plan
Pip Squire - Planning
Cllr Alex Postan WODC (District Councillor)
Cllr Nicolas Field-Johnson OCC (County Councillor)
Please contact the clerk. clerk@brizenortonparishcouncil.co.uk
Last Christmas we gave monetary gifts to 40 pensioners/widows. If you are a Brize Norton resident, Pensioner or Widow and would welcome a little bit of extra cash at Christmas time please let me know.

Fred Bellenger 841189 f.bellenger@sky.com

Nothing much to report over the winter except for a couple of invasions of cattle which luckily didn't do much damage. Hopefully their owner has now closed off their escape route.

Several plots will be coming available shortly. If you would like to take one on please let the Clerk or myself know so you can go on the waiting list. Priority is given to Brize Norton residents.

Fred Bellenger 841189 f.bellenger@sky.com
Our local farmer has requested that during the months of March and April that we keep our dogs on a lead or keep them close to us so that ground nesting animals – Skylarks, Grey Partridge, Pheasants and Leverets, do not have their nests disturbed or worse, destroyed. Thank you.

I would like to take this opportunity to thank all those responsible dog owners who are clearing up after their dogs (and some are clearing up other owner's dog mess!) making the pavements and field footpaths a more enjoyable and safer place to walk.

Unfortunately, I am receiving even more complaints than normal that there is still a minority of people who do not act responsibly and fail to clear up after their dogs. Station Road and the Public Right of Way in the field between the rear of Daubigny Mead and Chestnut Close are particularly bad at the moment.

Dog mess is unpleasant for everyone and it's a serious health risk as it can cause toxocara canis, which is a terrible disease for children and young adults to catch. With our local farmer about to bring his livestock out for grazing, it is worth remembering that it is also dangerous for pregnant cattle.

Could I please ask that all dog owners act responsibly?
DOG WALKING ETTIQUETTE
Whilst most dogs are confident and sociable around other dogs and enjoy nothing more than being off-lead, others are not and therefore need to be given space. If a dog is on-lead, you should not let your dog go up to it. There are many reasons why a dog might be on-lead, but generally it is because the owner is being responsible.
Some reasons why a dog might be on-lead:
S/he is aggressive or nervous (towards people or other dogs)
She is in season
S/he is recovering from surgery
S/he is old, frail, deaf, blind or in?rm
S/he is contagious
S/he is being trained
Just as we don't all go up and hug every stranger we pass in the street, so it is not realistic to expect your dog to be allowed to greet every dog you pass. To help your fellow dog walkers more easily identify that your dog is on-lead, especially from a distance in the fields, there are lots of great walking accessories to help, such as bandanas, collars, harnesses and leads (yellow) that all warn others that your dog needs some space. These can be a great way of just making people stop coming straight up to your dog, or to encourage them to keep their own dog away.
OPEN FIELDS
I visited my family in Worthing over the Christmas break and when the time came to take our dog for her evening walk, I found that the open fields that I once walked in, and even the green recreational spaces between the houses in the 1950's estates, have all been built on! A walk through suburbia it was! This made me realise just how fortunate we are to have the open fields to the east and north of our village plus Kilkenny Lane Country Park. Long may it last!
MANOR ROAD
Thank you to the residents at the south end of Manor Road for the way they are parking. If you could kindly continue to allow enough room for push chairs, wheel chairs or visually impaired people to pass between your vehicle and the houses, this should alleviate any further complaints.
REPORTING ISSUES
If you find any problems with the footpaths, stiles or signs then please let me know via the Parish Clerk (clerk@brizenortonparishcouncil.co.uk), preferably with a picture of the issue, and I will speak to the landowner.

I look forward to meeting you should our 'paths cross'. Happy walking!

Les Goble (Footpath Warden)


It became very apparent from the Neighbourhood Plan Survey that villagers (including our children at the Primary School) were extremely concerned about speeding in the village and a group of volunteers has got together and over the next few months will be out in the village conducting speed watches with a Speed Indicator Device (SID).

The device measures the speed that drivers are going down a particular road and whilst tickets are not issued, letters are sent out to offending motorists by Thames Valley Police. Repeat offenders will suffer more serious consequences.

In addition to this, the data collected by the volunteers is passed over to our road policing colleagues who will then determine if it is appropriate to carry out some structured and frequent speed enforcement.

We are looking for more volunteers to come and join us so if you are interested then please contact me by email, w.way@brizenortonparishcouncil.co.uk or come and introduce yourself if you see us out conducting a Speed Watch.

Councillor Wendy Way
Q. What do these RAF Stations all have in common: Waddington, Honington, Halton, Wyton, Cosford, Akrotiri, St Athan, Lossiemouth and Brize Norton?

A. They all have an RAF Voluntary Band!

If you have worked or lived at any of these Stations, perhaps you saw or heard a band in the various Messes performing at dining in nights, or on graduation or freedom parades, at the Station Christmas Carol service, Families day or at Remembrance events. Chances are, you probably thought they were RAF musicians?

The 'Voluntary' part in the title distinguishes the bands from the full-time RAF musicians and highlights that members give up their spare time to take part in Station functions and events in the local community, representing the RAF. Serving RAF Voluntary Bandsmen are awarded a badge on their No.1 uniform in recognition of their commitment. Service Bands, be they full-time or voluntary, are tasked to support the ethos of the Armed Forces by reinforcing through music the pride, comradeship and traditions that Service personnel share.

The RAF Brize Norton Voluntary band was formerly 'The Wessex band', based at
Lyneham; it moved here when the Hercules relocated to Brize Norton back in 2012. The band (as all voluntary bands are) is made up of Service personnel, veterans from all services, dependants, MOD civilians, Contractors on base and people from the local
area

RAF Brize Norton is by far the largest Station in the RAF with a huge number of people working here, but it also has a high percentage of personnel that deploy regularly to support Aircraft Operations. This makes it difficult for Service personnel to commit to regular rehearsals but those people do give their time up whenever they can. As is the case in most Voluntary bands, it is the civilian members that give the band its foundations.

The band is always looking for new members, to join in whenever you can, so if you fancy a new challenge in the New Year, why not pick up your instrument again – even if it's been years since you last played. If you no longer have an instrument, we have several available and everyone is welcome. Military bands are brass and woodwind and have people of all abilities; we're a friendly bunch that enjoy playing for pleasure.

If you are organising an event for your section or squadron, and would like some live music, our repertoire ranges from Military music, film music, popular music, Christmas to Oktoberfest; we pretty much have all bases covered! You'll find us in the Band room, above the 'Common Room' on Monday evenings between 1800 and 2000 or look us up on the RAF Brize Norton Home page, under 'clubs and sports' then 'other clubs'. You'll find contact info on there and a Band request form.
NEW UNION FLAG FOR REPATRIATION MEMORIAL GARDEN
A specialist flag manufacturing company has donated a new Union flag for the Repatriation Memorial Garden at Brize Norton.
Newton Newton started providing flags when repatriation ceremonies were held at Royal Wootton Bassett and continued to do so when the ceremonies moved to Brize Norton in September 2011.
Cllr Norman MacRae, Cabinet Member and Armed Forces Champion at West Oxfordshire District Council said, "Newton Newton has been most generous with the presentation of flag poles and Union Flags both at Wotton Bassett and here at our Memorial Garden, to show support for our fallen troops.
"I think I speak not only for West Oxfordshire, but for the entire country, when I offer the company my most sincere thanks for its act of support and recognition."

The traditionally-made Union flag is the centrepiece of the Memorial Garden which plays host to repatriation ceremonies as they travel from RAF Brize Norton to the John Radcliffe Hospital. The flag is lowered to half-mast for repatriation ceremonies.
Newton Newton also donated the flag pole for the Repatriation Memorial Garden at Brize Norton, as well as the one that is at Royal Wootton Bassett.
Mr Clifford Newton, founder of the company, said, "As a military family, we are proud to donate to her Majesty's Armed Forces."
The Newton family have had military roots since the First World War and established the business in 1975. They are now the UK's leading flag manufacturer supplying flags and ceremonial banners to all branches of HM Armed services and to national and international government departments and major corporations.
Photographed taking down the old flag and putting up the new one are Cllr Norman MacRae (left) with Bill Oddy, Publica Group Manager.
| | |
| --- | --- |
| The Women's World Day of Prayer has changed its name to World Day of Prayer, so it really is for everyone! This year it is being hosted by St Joseph's Church, Carterton on Friday 1st March at 7.00pm. Written by the women of Slovenia and entitled "Come - Everything is Ready", the service is always moving and enjoyable. Refreshments follow the service. | |
| | | |
| --- | --- | --- |
| | Happy 2019 from everyone at Brize Norton School! We have been very busy as always since my last entry for this newsletter, especially around Christmas time. Before Christmas, in November, we had a first for our school: 30 of our children performed a version of "The Tempest" at the New Theatre Oxford in front of an audience of several hundred people. I was extremely proud of them all for their courage, determination and creativity. | |
| | | |

Then on to Christmas, definitely our busiest time of the year. It all kicked off on Thursday 13th December with our whole-school trip to the pantomime, this year to Chipping Norton Theatre. Then on Monday 17th we had two performances of "The Magical Christmas Box" by our Foundation and Key Stage One children. This was a truly magical performance, a step more complicated that plays we have done before, in which every child had at least one line to speak including our very youngest children – and they were magnificent. This was followed on Tuesday and Wednesday by Key Stage 2's hilarious production of "Panto Pandemonium" (imagine six pantomimes in one play, all going wrong together, and you'll get the idea). Thursday was the Christmas dinner, no small undertaking with all the children, staff, governors and volunteers (of whom we have so many) eating together. Finally, on Friday we were welcomed by St Britius' Church for our annual carol service, including descants sung by our choir and a good number of solo instrumental performances (with one on the organ!). Phew! It was a wonderful week but we certainly all deserved our Christmas break.

The new term has now begun in earnest. The Spring term is a key one for learning, with all the children settled in to their classes and doing well. Despite the cold we're continuing with Forest School, for the younger children on Monday and the older ones on Tuesday, and our youngest children are also going swimming every week. There are plenty of other trips and events too – we are never bored at Brize Norton School.

If you are available on a Monday or Tuesday afternoon and would like to volunteer with Forest School, we would be very grateful – please contact the school office. Volunteers to help with reading during the afternoons are also always welcome; Phil and Mary Holmes have been doing this for many years to the great benefit of our children.
Meanwhile, I hope everyone in Brize Norton has a lovely Spring; see you around the village.

Anna Fairhurst
As always we will start with a huge thank you to everyone who supported our events, we managed to raise over £1000 in our Christmas Craft Morning and Bake Off & Bazaar before the end of term. The Valentines Disco raised £245 and was thoroughly enjoyed by all!

As well as providing the school with 10 new iPads, this term, we have also agreed to pay for 'Reading Eggs' which is an online platform that helps children read with games and activities, the school have found that by using this app children who struggle to access reading in a conventional way are enjoying reading.

Our up coming events are;

KS2 Movie Night - Friday 1st March
We are holding our first ever in school cinema, with snacks and a choice of movie for our older children. Tickets will be £6 available from the school office in advance.

Quiz Night - Friday 15th March
Our ever popular school Quiz will return on March 15th £7 per person including a light supper. Tables are a maximum of 6. To book contact Lauren 07766521443.
We look forward to seeing you all at the quiz!

For any questions, to make a donation or for events please contact Lauren Jacobs - Chair Person 07766521443
Brize Norton Village Preschool operates from the Elder Bank Hall Monday-Thursday 9am-3pm and Friday 9am-12pm term time only. We offer places for 2, 3 and 4 year olds. Funding is available subject to terms and conditions. Prices start at £13.50 per session. We are now full until July but we are already accepting waiting lists for September 2019. We are holding to open afternoons on the 7th and 21st June 1pm-2.30pm. Please call 07769617696 for more information or to register your interest

More information can we found on our website http://www.brizenortonpreschool.co.uk or
please email us at brizenortonpreschool@hotmail.co.uk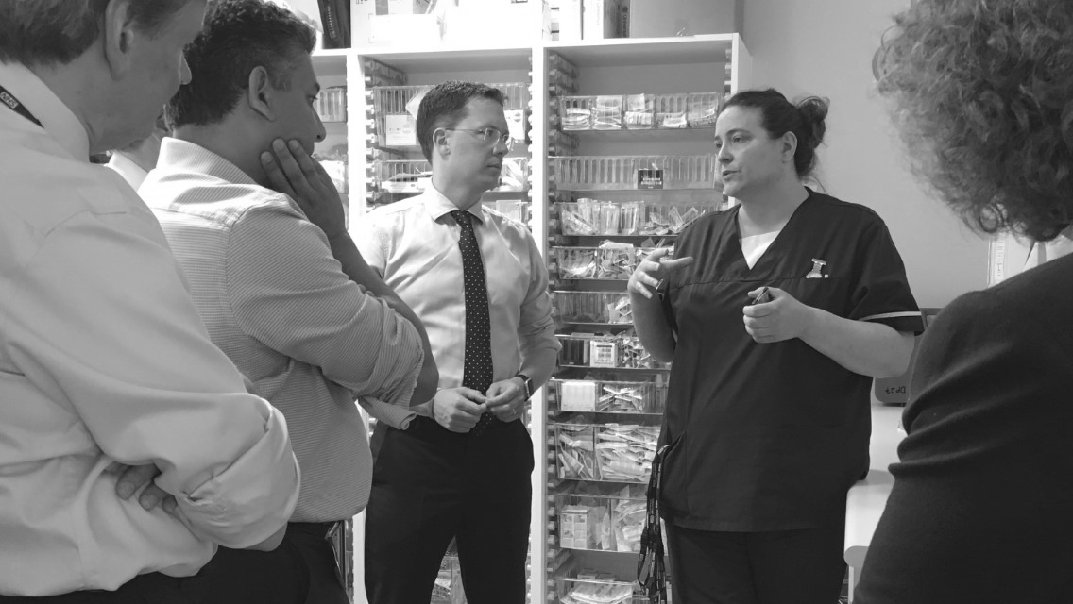 We all have a personal story of how the NHS have provided help and care when it was most needed. It is an institution that has been there for our family, our friends, and for those who have no one else to turn to. The NHS has a special place in our hearts, and it is right that we ensure it is protected and supported for future generations.

Earlier this year, the Government launched its NHS Long Term Plan: a 10-year plan setting out how our NHS will continue to help those who need it most, overcoming challenges and making the most of opportunities in the years to come. This Plan has been developed and driven by clinicians, medical experts and – perhaps most importantly – patients. I welcome the content of the Plan and its central principle, in particular, that prevention is better than cure. This is what our modern, growing population needs: support to keep people healthy, with a focus on preventing illness as much as curing it.

Of the £20.5billion that will be injected into the NHS over the next five years, the biggest increase in funding will go to primary and community care. GPs are the bedrock of our NHS – especially in rural areas such as West Oxfordshire – and it is right that our GPs receive this increased support for the vital work that they do. When I am out and about knocking on doors in the local area, the importance of GP services is frequently raised by constituents, so I know this will be welcome news locally.

Other elements of the plan include – but are not limited to – a flagship ambition to improve cancer survival rates with earlier screening programmes and diagnosis; improvements in the prevention, detection and treatment of cardiovascular diseases; better access to mental health services; fighting inequalities by expanding support for veterans and 'care after custody' services; making digital health services a mainstream part of the NHS; and making the NHS a world-class employer, focusing on the improvement of working conditions for those who have dedicated their lives to helping others.

In the coming months, NHS services will work with communities to shape how this will look at a local level, ensuring each area has the right support according to local needs. Again, this is welcome news as the needs of West Oxfordshire healthcare services are entirely different to those in, say, Manchester, and it is right that this is reflected in the Long Term Plan.

This new vision for our NHS – along with the management and funding to deliver it – is something to be celebrated, and it is a hugely encouraging step forward for the future of healthcare services.
After a very successful Open Gardens Event in 2018, with the added benefit of a glorious hot summers day, we are all looking forward to this years Event that will be held on Sunday, 9th June, commencing at 1:00pm.

This year we have two new gardens that will be taking part this year. So we would like to welcome the gardening family from the converted Chapel in Manor Road and the gardening family from Rose Cottage in Station Road who will be helping us raise funds for the NGS and local village charities.

As a result there will be a total of 12 Gardens from the village that will take part in this Event, along with the Flower Festival, that will be held in the Church.

We will be opening earlier this year at 1:00pm, so we hope that the weather is kind to us, as it has been for the previous two years, which have been quite exceptional.

If there are any keen gardeners in the village who would like to join us in the future that would like to take part in this worthwhile charitable Event, then please do not hesitate to contact us. You will be made most welcome.

So now we look forward to meeting you all at the Event on Sunday 9th June.

The Brize Norton NGS Open Gardens Group
W

e have an interesting mix of Speakers confirmed and outings scheduled in 2019.

March – Annual General Meeting.

April – John Caldicott returns and will speak on the topic of "Daisy's Story – An Unmarried Mother in the 1930's". This will certainly be an interesting evening as it is a moving story about John's Mother and the circumstances that led to her handing him over as a baby to be raised in the Foundling Hospital.

May – If you want to learn what your or someone else's "Body Language" is revealing, join us as Bayley Eyley gives clues on what to watch out for, on this topic.

June – Come along to Carol Warren-Smith's fun presentation on "Traditional England Songs – Pandemonium".

We meet at the Elder Bank Hall on the 2nd Tuesday of the month at 7:30 p.m. and look forward to welcoming anyone who may be interested in fellowship and joining this worthwhile organisation that supports the community of Brize Norton.

Janet A. Albury-Simpson
Thank you to everyone who took part in our Christmas services, carol singing, quiz and Christingle service.

Recently the PCC's of St Britius and St John the Evangelist, Carterton have been working together and meeting with the Bishop of Dorchester to produce a job profile and advert for the post of Rector for the Benefice. The job has been advertised and we await applications with a view to interviewing for the post in early April.

We raise money through various initiatives and would welcome your support to keep St Britius as visible and permanent sign of the Christian community in the village. We welcome everyone to a fundraising pancake supper evening on Shrove Tuesday, 5 March, 6pm to 7.30pm. Tickets are £5 per person entitling you to two pancakes (sweet and/or savoury). We are grateful to the headmistress for letting us use the facilities of the school hall.

During Lent we are also repeating the 'Smarties Tube' fundraiser. Please take a tube of Smarties (on the table inside the church), eat the contents (or store them in another container until Easter Day) and then fill the tube with coins - 20p and £1 coins fit well - donating money saved from your Lenten abstinence. Return the tube to us at Easter.

Thank you to everyone who has renewed their membership of the Friends and supported us over the last year. If you are not already a member please consider joining – we ask for a minimum donation of £10 and you will receive a newsletter to keep you up to date with our future projects. For more details of all fundraisers please contact Phil - 843856 or Carolyn - 844102.

We would welcome you to join us for the following events and special services:
Our Mothering Sunday Service is on Sunday 31st March. Children are invited to come to 52a Station Road on Saturday 30th March at 3pm to make posies that will then be presented at the 9.15am service (contact Carolyn – 844102).
Our Celebration of Easter starts on Palm Sunday 14th April with the 9.15am Communion Service and then continues as follows:

Maundy Thursday 18th April Holy Communion at 7.30pm

Good Friday 19th April service of reflection and prayer at 4pm

Easter Day 21st April Holy Communion at 9.15 am.

All are welcome to the Pilgrim discussion group each Wednesday lunchtime 12.30pm to 1.30pm (soup lunch provided - for more details speak with Ben – 358690) and to the Wednesday evening Holy Communion service at 7.00pm.

For further details of the church services or our other regular activities refer to the notices on the church door or log onto the website www.bncommunity.org.

Rev Ian Howard can be contacted on 07867784693 or via e-mail curate@stjohnschurchcarterton.org.uk.
Members of the club enjoyed a very good Christmas meal at The Trout, Lechlade; thanks to Penny and the staff.

We have already enjoyed our sing-a-long with Cliff and Pat in January. Our future programme is as follows:
Tues 5th March 'Bob's poems' read by Margaret Watts
Tues 19th March Coffee Morning 10.30am at Joy's, 4 Squire's Close. Bring and Buy, Raffle, Everyone welcome
Tues 2nd April Cream tea, quiz and chat
Tues 16th April Visit to Yarnton Garden Centre
We are a village group of 27 members. We have an outing or meet on the 1st and 3rd Tuesdays of the month.
Meetings are at 4 Squires Close at 2pm. After we enjoy sandwiches, tea and home-made cakes, thanks to June, Connie and Benita.
For more information, ring Joy on 842373 or look on the village notice boards.
Witney - We meet at Witney's Windrush Leisure Centre at 10 am on Tuesdays, Thursdays and Saturdays. We do two walks; one is 1-2 miles long, the other 2-3 miles both ending up with a cup of coffee. For more information ring Joy on 01993 842373.

Carterton - On Monday, Thursday and Saturday we meet outside the Town Hall, Carterton at 10am. The walks are 1–2 miles long. For more information contact Barbara Goudal on 01993 845923.
COFFEE MORNING – TUESDAY 19th MARCH

OVER 60'S CLUB

Everyone welcome - 10.30am 4 Squire's Close
Bring and buy and raffle
| | |
| --- | --- |
| | We meet every Thursday evening in the Elder Bank Hall from 7.30pm-9.30pm. We dance ballroom, Latin and sequence dances to CDs. We have tea and biscuits in the interval. For more information please ring Joy on 842373. |


BROWNIES
Brize Norton Brownies are a small friendly group who meet Monday evenings during term time.

This year Brownies have launched a new program consisting of six themes. In each theme the girls get to choose a set of skill builder activities to do, complete with A4 cards that tell the girls what equipment they need and what to do, which means the girls get to take more control of what they do. We will also be doing activities around the theme and badges are awarded as goals are met. We will still be including all of our old favourite games, cooking, crafts, parties, theme nights and outings. The girls have chosen to start with skills for our future and we will be cooking Fajita's, shopping till you drop, coin hunting and making a room in a box in the near future.

If you are aged 7 to 10 and would like to join us please contact me on 842013 or join us via the Guiding website.

Contact Barbie on 842013 or go on the Guiding website.
The 6th June this year is the 75th anniversary of D-Day.

Brize Norton and RAF Brize Norton played a significant part in the D-Day.

Hundreds of troops were billeted in tents spread around Brize Norton Village and on RAF Brize Norton, many Horsa gliders ferried troops for landings in France.

If you are interested in helping to organise an event or have any ideas of how the village could celebrate this anniversary, please contact Keith Glazier by emailing him

at esox123@btinternet.com.
MARCH
Friday 1st March

World Day of Prayer
Friday 1st March

(BNPS) K2 Movie Evening


Monday 4th March 7:30pm

Parish Council Meeting
Tuesday 5th March 7:30pm

(WI)AGM
Tuesday 5th March 6:00pm Shrove Tuesday Pancakes St. Britius's Church
Tuesday 5th March 2:00pm

(Over 60)

Bob's Poems
Friday 15th March

(BNPS) KS1 Quiz Evening
Tuesday 19th March 10:30am

(Over 60) Coffee Morning
Saturday 30th March

Posy making
Sunday 31st March

Mothering Day Service

APRIL
Monday 1st April 7:00pm

Allotment meeting
Monday 1st April 7:30pm

Parish Council Meeting
Tuesday 2nd April 7:30pm

(WI) Daisy's Story—an unmarried mother in the 1930's
Tuesday 2nd April 2:00pm

(Over 60) Cream tea, quiz, chat
Sunday 14th April 9:15am

Palm Sunday

Service
Tuesday 16th April 2:00pm

(Over 60) Yarnton Garden Centre
Thursday 18th April 7:30pm

Maunday Thursday Holy Communion
Friday 19th April 4:00pm

Good Friday Service
Sunday 21st April 9:15am

Easter Sunday Service

MAY
Tuesday 7th May 7:30pm

(WI) Body Language with Bayley Eyley
Monday 13th May 7:30pm

Annual Parish Council Meeting
Tuesday 21st May 7:30pm

Annual Parish Meeting in the Elder Bank Hall

JUNE
Monday 3rd June 7:30pm

Parish Council Meeting
Tuesday 4th June 7:30pm

(WI) Traditional English Songs - Pandemonium
Thursday 6th June

D-Day Anniversary
Sunday 9th June 7:30pm

NGS Garden Event

The Parish Council publish this newsletter, which should be distributed around Brize Norton village at the beginning of March, June, September and December.

If you wish to submit an entry the deadline is the 15th of February, May, August and November.

If you do not receive a newsletter please contact the clerk