Привіт і Ласкаво просимо A very warm welcome to our new village residents from Ukraine.
As mentioned previously in the Chairman's note and also more recently on social media, the war in Ukraine has been devastating at displacing the population of this beautiful, cultural country.
The effect the war has had on millions of people is catastrophic and around the world, people have been doing the most unprecedented acts of kindness to help those effected. We have never been more proud of everything that many of our Brize Norton villagers and village hubs have done and are still doing to help the plight of the people and families fleeing Ukraine.
We have decided to start our 'Around the village' section with articles, letters and news that we have received. The first letter comes from Pip Squire, on behalf of Mariana and her family, who have recently moved in with Pip and Mandy.
• Letter dated: 19th April 2022
Homes for Ukraine Scheme
Several residents of Brize Norton have signed up to offer accommodation to families fleeing from the war in Ukraine.
The first Ukrainian family arrived in the village on 3rd April. Mariana and her two young children left Ukraine on 26 February just two days after Russia invaded. They crossed into Romania on foot, not knowing where they would end up. They were able to spend time with a family friend's mother in Italy before being granted visas to come to the UK. As soon as the visas came through flights were organised and they arrived the following day.
"On 24.02.2022 my life turned upside down. Because of war in my country I left my house, family and job to keep my children safe. Kind family in UK Brize Norton helped me with free accommodation. They take care of me and my children. These warm-hearted people have done so many good deeds for my family. I will be grateful to them all my life."
In the coming months we hope the village will be able to welcome other families in need and give them some peace and comfort while their country is in such turmoil.
If anyone would like any help with visa applications etc please feel free to email us: pip.squire@outlook.com.
With many people still on their journey to a new home or desperately trying to keep theirs, activities have been going on throughout Brize Norton and Carterton to help those, where possible.
Freedom Boxes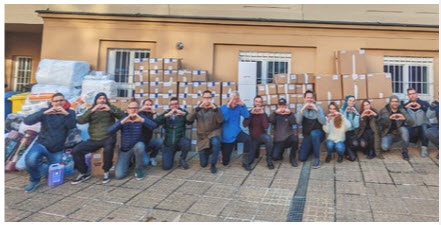 For those who may not have been following the story on social media, Debbie and her family in Czechoslovakia and France have been helping out many, many people.
"Within a week of the Russian invasion beginning, my cousin Stuart Watkins had set up www.freedom-boxes.com and was beginning the first of many journeys from his office in the Czech Republic to the Ukrainian border. Freedom Boxes has been set up specifically for the Ukrainian people most in need, in the volatile regions that the large aid agencies can't reach.
| | |
| --- | --- |
| | The boxes are designated family, defender, sleep, kids, children's hospital and are funded through individual donations on the website. The idea came from his daughter who wanted to send a box of nice things to the children in the Ukraine, similar to she had done with her friends during the corona virus lock downs. |
| | |
| --- | --- |
| As part of a goodwill initiative, Brize Norton Village Pre-School got involved as my son Alfie has been going there for the past 2 years. As Stuart, his Dad and a network of friends packed up SUVs and vans with boxes, Alfie and his friends and teachers began making rainbow pictures to send in the boxes the following week. These pictures and messages give some comfort to the Ukrainian children that there is hope and caring from outside of Ukraine. A special website has since been created www.messagesofhope. uk where contributions are collected for all to see. In Prague the pictures are being grouped and printed ready to be included in the freedom boxes. | |
At the border crossing, Stuart and the team were faced with scenes of hundreds of displaced Ukrainian people. Many had been walking for days fleeing the destruction of their homes and cities. Within 5 minutes of speaking to a border official, the vehicles were filled with Ukrainian children, mothers and grandparents who wished to travel to the Czech Republic. On arrival in Prague from the 20 hour round trip, the team arranged accommodation and assisted with onward travel arrangements.
| | |
| --- | --- |
| | This journey has been repeated every week since, and thanks to an increase in donations is now twice weekly. We use a 49 seater bus with two drivers for the round trip, with approximately 100 boxes dropped at the border and 45 people collected. We recently helped a community of Ukrainians relocate to a town near Toulouse, France where another of my cousins Caroline has set up a support network to help with accommodation, schooling, language and many other things. |
In order to help further, Stuart's software company Zenoo launched Freedom ID. A free service aimed at finding accommodation for displaced Ukrainians. The solution has verified 96 hosts so far. On average each host will support 4 people, meaning we have made it more secure for over 350 refugees to find shelter. If you are, or you know any online service that connects refugees with accommodation hosts please send them to www.freedom-id.com."
If you would like to read more of Debbie's story, it will be posted online on our Brize Norton facebook page (@brizenortonvillage) in the coming weeks.
Ukraine Clothes & Cake Sale Fundraiser
| | |
| --- | --- |
| | As with many of us following the tragic events in Ukraine and impact on so many families, at the Humble Bumble we were keen to organise a local fundraising eventwith the premise being any monies raised be directly for locally housed families. |
We all have far too many clothes so felt a pre-loved clothes sale would enable us to clear our wardrobes and raise some well needed money.
Huge thank you to all those who donated clothes and baked cakes. Especially to Lorraine and Amanda for organising me and co-ordinating the day and to all of those who shopped, grabbed a bargain and helped us to raise £320 we are incredibly grateful.
| | |
| --- | --- |
| | The Humble Bumble also have a box for a welcome bag initiative by Ani Catt, should you wish tocontribute. |
A BIGThank You!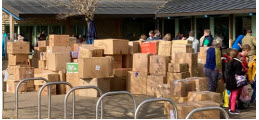 Brize Norton Parish Council would also like to say a big "Thank you"to all volunteers who went up to the Carterton Leisure Centre to help with packing boxes of donations to send to Ukraine.
Brize Norton wear new colours!
| | |
| --- | --- |
| | The children had a 'Day for Ukraine', where the whole school came dressed in blue and yellow and brought in a donation to send to the refugees. Useful information for Ukrainian people coming to the UK and ways in which you can help |
Disasters Emergency Committee

has launched a Ukraine Humanitarian Appeal to support DEC charities and their local partners in Ukraine and in neighbouring countries to help provide food, water, shelter and medical assistance. The UK Government will match pound-for-pound up to £20 million donated by the public to this appeal. The Disasters Emergency Committee has urged people to donate money rather than goods if they can to help those affected by the conflict.
The following are considered reputable charities:
International Rescue Committee is raising funds to help provide medical care, emergency food and other critical aid to families affected by conflict.
British Red Cross is calling for donations to the Disaster Emergency Committee appeal in support of humanitarian aid charities. Currently, the Ukrainian Red Cross Society and the International Committee of the Red Cross, together with fellow Red Cross National Societies in border countries, are working to get vital help to those impacted by this crisis.
Homes for Ukrainians
| | |
| --- | --- |
| On 29th March, the government published a welcome guide for Ukrainians www.gov.uk/ government/publications/welcome-a-guidefor-ukrainians-arriving-in-the-uk guidance on what they need to do before they travel to the UK and what to do after they arrive. A fact sheet has also been published that explains how Ukrainians can apply to the Homes for Ukraine sponsorship scheme. The welcome guide includes information on what Ukrainians need to know in the first few days, getting used to life in the UK including how to find a home, access essential public services, healthcare, find work and childcare and education services. It also includes specific information for those arriving on the Homes for Ukraine scheme. Translations of both documents will be available shortly. Councils, sponsors and Ukrainians should continue to check the Homes for Ukraine campaign page and frequently asked questions document for further updates. Homes for Ukraine campaign: https://homesforukraine.campaign.gov.uk/ | |


Brize Norton Parish Neighbourhood Watch (NHW) is a new scheme aimed at creating safer neighbourhoods within the Brize Norton Parish and further build community spirit and cohesion, improving upon the existing quality of life and the local environment. By sharing and acting upon crime prevention advice, you can play an important role in helping us to reduce crime or fear of crime in your area. Being part of the Neighbourhood Watch Scheme can: • Reduce / prevent local crime and disorder • Reduce fear of crime • Address issues relating to antisocial behaviour • Assist in the detection and apprehension of criminals through members providing information to the police
My name is Jim and I have lived in the local area since 2003 and Brize Norton since 2019. I'm keen to improve upon the already positive community spirit and bring unity to the 'whole' of the newly expanded Brize Norton Village, fostering a caring, neighbourly attitude to improve the wider resilience and friendliness of the area.
The vision for the Brize Norton NHW scheme is to have numerous Area/Street coordinators working in collaboration with myself as Area Coordinator, ultimately working as a team to develop and manage this project long-term.
To join the Brize Norton Parish NHW visit www.ourwatch.org.uk/join and complete the online form. You will receive an email with a confirmation code, enter this code when prompted and continue completing the form.
Once registered as a member, you can join the scheme, simply type in your post code on the ourwatch.org.uk homepage, select Brize Norton Parish NHW and click "join this scheme".
There is also the opportunity to send me a message by selecting "email scheme coordinator" if you have any questions, queries, and feedback. The Parish Council and I look forward to residents joining the scheme and Street Co-ordinators stepping forward, a role which requires no effort, other than being able to speak to your neighbours! Thank you. Jim James Stewart (Neighbourhood Watch Co-ordinator)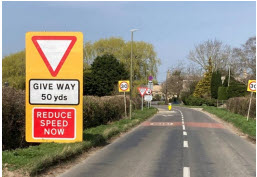 The Parish Council has received confirmation from OCC that they have spoken to Bloor Homes regarding the 'advanced warning sign' on Station Road which is too large and inappropriate for that location. The sign will therefore be changed but at this stage, OCC do not have a timeframe for these works. The PC will continue to pursue this matter with Bloor Homes along with all the other outstanding works associated with all three buildouts and the footway improvements on Minster Road and Burford Road.
| | |
| --- | --- |
| It has been bought to the Parish C o u n c i l ' s attention that during the times of the 'school runs', drivers are turning into side roads to park their cars but are ignoring pedestrians about to cross the road. | |
In order to keep all our residents safe, the Parish Council would like to respectfully remind drivers that from 2022, there has been a change in the Highway Code, which is as follows: • Rule H2 Rule for drivers, motorcyclists, horse-drawn vehicles, horse riders and cyclists. At a junction, you should give way to pedestrians crossing or waiting to cross a road into which or from which you are turning.

To clarify, a motorist must wait for the pedestrian to cross the junction before turning. This applies if the motorist is tuning right or left into the junction. With the latest rules on 'Hierarchy of road users' now being enforced by law, along with other updates to the Highway Code, maybe, like myself, you may consider now is a good time to invest £4.99 to purchase the latest version of the Highway Code?
| | |
| --- | --- |
| | |
A joint initiative between the Parish Council and Thames Water, aided by Robert Courts MP, has seen a development in the way we manage the flow of both surface, foul and flood water in the village.
Many of you will have seen workmen in the fields on the west and east side of the village. They are Thames Water operatives and to date, they have carried out a full camera survey of the surface and waste water pipes on the west side of the village. This survey has led to them clearing a blockage in the surface water pipe and replacing all the manhole covers on the waste water pipe.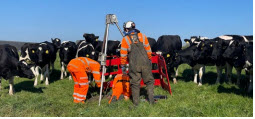 They are now in the process of carrying out a camera survey on the waste water pipe, which runs down the east side of the village. This survey will be carried out between the A40, and the pumping station situated at the south of the village.
Surface Water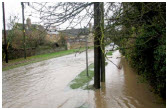 The Surface water system has been studied by cctv and a b l o c k a g e caused by tree roots has been removed.
This is an ongoing problem, unfortunately, occurring every 4 or 5 years. Regular maintenance will help to alleviate the problems and reduce flood risk to the village.
Foul Water
The disposal of foul water is a more complicated process. The foul line to the west of the village carries foul water from, circa, 1800 houses in Shilton Park. Currently the line also carries foul water from the growing Brize Meadow estate. This is a temporary measure and the new pumping station on Carterton Road will, in the near future, be completed. The Brize Meadow development foul water will then be pumped to the Carterton Sewerage Treatment works.

Brize Norton has been recognised for many years as an area of "high concern" by Thames Water, as is part of the catchment area for the Witney Sewerage Treatment Works. Thames Water are currently carrying out a detailed examination of all remaining foul lines serving the village, in an attempt to prevent rain or surface water ingress, which can cause the system to be overloaded. There have been many "studies" by Thames Water over the last 20+ years into the disposal of foul water. We hope that these latest measures will help resolve the situation.
The Parish Council will remain vigilant and continue to pursue this matter. Les Les Goble (Councillor) Keith Keith Glazier (Councillor)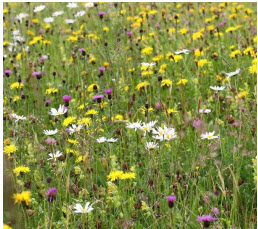 West Oxfordshire District Council has recently undertaken habitat restoration works at Kilkenny Lane Country Park, enhancing an area of grassland with a mix of native wildflower seeds.
Flowers such as oxeye daisy and yellow rattle will start to bloom in the largest section of the site's grassland areas, with more to be sown in a second phase later this year. The eastern most grassland area will also be managed differently to establish a tussocky structure, and create new microclimates for a wider variety of invertebrate species to inhabit.
Monitoring the progress of this new habitat structure at Kilkenny Lane Country Park, means Mary Ellis Country Park may also receive the same landscaping and encouragement of wildlife.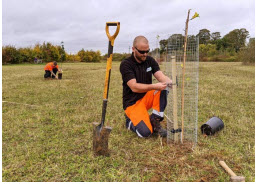 The Council also soon hope to set up a conservation volunteer group at the country park, to improve the site's habitats and make local people feel more connected to this natural space.
NEW CARE HOME DEVELOPMENT ON BRIZE MEADOW
An open letter to the Brize Norton community from Maria Taylor, Commissioning Director at Ideal Carehomes, due to operate the new care home on Monahan Way.

Dear all,
On behalf of everyone at Ideal Carehomes, I would like to thank you for your help in naming our new care home. We were very excited to see all your suggestions on social media and thank you to local businesses such as the Humble Bumble Café, The Chequers Inn and The Mason Arms who made way for our suggestion boxes. The name, suggested by Sallie Barratt, that won the vote is: Brize Meadow Lodge We are very happy with the winning name and we hope you are too!
We look forward to meeting you all soon but first you might like to know a little bit about us. We are an established care provider and Brize Meadow Lodge will be our 36th purpose-built luxury care home. Everything we do at Ideal Carehomes is focused on creating a great place to live and work. We pride ourselves on making a real difference to the lives of our residents, getting to know the people we care for, promoting independence and tailoring daily activities to fit each individual.
As you will know, our care home is currently under construction and we are due to open our doors in April 2023. Brize Meadow Lodge care home will provide round the clock care for up to 66 residents, and employ over 50 highly trained team members once fully staffed.
Our state-of-the-art care home will benefit from the latest in care technology, allowing our team to deliver person-centered care in a dignified manner to each of our residents. Our residents will have access to a number of luxury facilities, including a salon, landscaped gardens, a café and even an on-site cinema to watch their favourite blockbusters!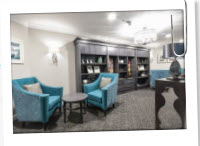 During construction, our home has had a ground source heat pump installed and we will also have solar panels to ensure that we are as environmentally friendly as possible. Whether our residents want to spend the day relaxing, reminiscing with their friends or taking part in one of our fun activities, there will always be something to do and our activities are tailored to our resident's interests. We are proud to offer an ambient dining experience in each of our homes by highly trained chefs, who prepare all meals freshly on site.
Once our new home is open, we will be able to help people in the village and surrounding areas with both short term and long-term residential and dementia placements. I am confident that Brize Meadow Lodge will create wonderful opportunities and community links in the historic village of Brize Norton. We will keep you informed on our progress, and will plan an open day for the people of Brize Norton to take a look around our home, meet our team, and discuss with you what the care at Ideal Carehomes truly is – person-centred and high quality.
We would also be thrilled to invite you to our regular events such as garden parties, craft afternoons and film showings, so we can get to know our local community and so our residents, who may have lived locally all their lives, can remain part of their community. This is a hugely important part of care home life for us, and I strongly believe that with the help of the community and our Ideal Carehomes team, Brize Meadow Lodge will thrive.
If you have any questions about Brize Meadow Lodge, or our work at Ideal Carehomes, please get in touch on 0113 465 4000. I'd be happy to answer any queries that you may have about this exciting new development.
Thank you, Maria Taylor Commissioning Director • Ideal Carehomes www.idealcarehomes.co.uk
DATES FOR YOUR DIARY

ELDERBANK HALL ACTIVITIES
The following table lists only the regular events. There will be other bookings and readers should not assume that the hall is available without reference to Diane Davies (see below)
Pre-school (3-5 years)
Mon - Fri
9 am - 12 noon
Jackie Hampson
07769617696
Mon, Tues & Wed
12.00 - 3 pm**
Brownies
Mondays
6.00 - 7.30 pm
Barbara Thorne
01993 842013
Yoga in Pregnancy
Mondays
8.00-9.00 pm
Jenny Philpott
07877 725598
West Oxfordshire Woodturning Assoc
1st Tuesday in the month
8.00-10.00pm
David Spittles
01993 776036
20:20:20

Zumba

Wednesdayy
7.30 - 8.30pm
Steph Hill steph.fitness@hotmail.co.uk
0797083106161
Dancing Club
Thursdays
7.30 - 9.30 pm
Joy Douglas
842373
Karate
Fridays
6.00 - 7.00 pm
Pete Cowling
07794 363837
Judo Club
Saturdays
9.30 - 11.30 am
Jonathan Gerrans
01865 884339
** Pre school opening hours
The Hall is available for Private Hire Contact:- Diane Davies on 843430
• Annual Parish Meeting Tuesday 17th May
• Queen's Platinum Jubilee Weekend Thursday 2nd June - Sunday 5th June
• Various times and locations - see centre pages
• NGS - Brize Norton Open Gardens Sunday 12th June • 1.00pm - 6.00pm
• Brize Norton Horticultural Show Sunday 28th August • Times to be confirmed
• Village Bash Sunday 18th September • 1pm - 5pm

| | |
| --- | --- |
| | BRIZE NORTON BASH SUNDAY 18 SEPTEMBER |
Our theme is 'Kings and Queens' – why not come in fancy dress?
We would like for everyone to get involved prior to the day by making a 'Regal' themed scarecrow and if possible to display it in your garden from Sunday 4th September to advertise the event. Then bring your scarecrows on 18th September to be judged and possibly win a prize. Rules and Guidelines for the Scarecrow competition will be placed in the next issue of the newsletter and on social media.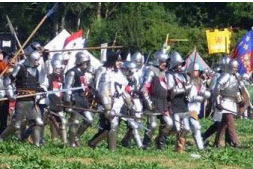 | | |
| --- | --- |
| We are pleased to welcome the 'Companions of the Crow' a medieval re-enactment group based in Witney, Oxfordshire who will be putting on displays of combat and living history encampments. | |
The fun starts at 1pm. We will have the usual stalls; raffles, tombolas, bric-a-brac, plant stall, cake stall, bar (with real ale), barbecue, year 6 games, bouncy castles and tea and cakes.
We are also planning other static displays and musical entertainment and all the fun of a village fayre.
The event is a community event run by individuals from the village charities and the proceeds go to Brize Norton Primary School, Brize Norton Sports and Social Club, St Britius Church, and Brize Norton Village Pre-school.
Look out for posters on the village noticeboards and for more information and updates on the village social media.
Make a date in the diary! Sunday 18th September • 1pm - 5pm The Recreation Ground, Brize Norton .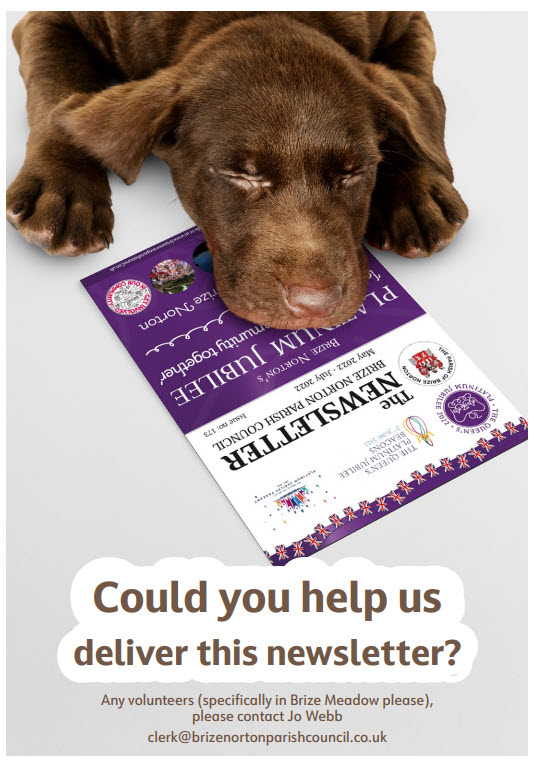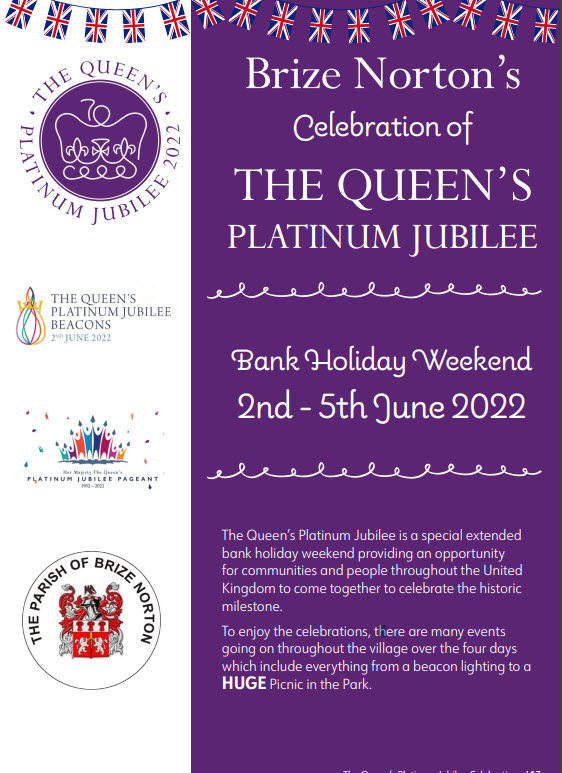 '

Click on panels to enlrage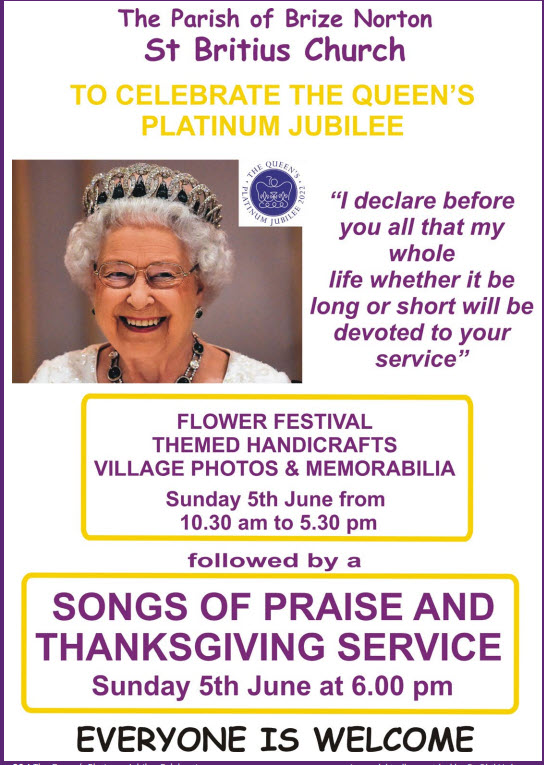 At the start of Eastertide on Shrove Tuesday we held a pancake supper in the church. By moving some of the pews, we were able to host over 50 people to a sit down supper.
| | |
| --- | --- |
| | Thank you to everyone who attended to make the evening a success. Also, utilising the additional space freed up by moving the furniture, we held a children's free fun event on Easter Saturday. Seventeen children took part in games, songs, stories and crafts including an Easter egg hunt led by Gary Long our family and children's worker. |
Along with the other village committees we are helping to mark and celebrate Her Majesty the Queen's Platinum Jubilee. Further details are on the previous page or contact Dr Phil Holmes (01993 843856). He would also very much like to hear from you if you have photos of village events in these last 70 years, especially those celebrating past Jubilee's. We would like to take a copy so that it can be added to the photographic display.
| | |
| --- | --- |
| On Sunday 12 June the church will be open as part of the NGS Open Garden Scheme. Pop down to view the floral displays in particular prepared by the NGS gardeners. We are also selling refreshments in the Elder Bank Hall from 1pm to 6pm to raise money for our general funds. | |
| | |
| --- | --- |
| | Looking further ahead, we will be taking part again in the Oxfordshire Historic Churches Trust 'Ride and Stride,' on Saturday 10 September and participating in the organisation and having a stall at the village bash on Sunday 18 September. If you could offer help at either of these events please let Carolyn know – 844102. |
You are welcome to join in our weekly fellowship Pilgrim's Lunch each Tuesday lunchtime from noon to 1pm. Contact Ben (358690) for more information.
For further details of church services refer to the notices on the church door or go to our website .org. If you have any queries, need help or support, please contact any of our team: Rector: Rev. Drew Tweedy 07393 182093 revdrew61@gmail.com Team Vicar: Rev. Ian Howard 07867 784693 ian.barry.howard@gmail.com Churchwarden: Dr Phil Holmes 843856 p.holmes@brizenorton.org Churchwarden: Rosalind Sewell 843418 rossie.sewell@googlemail.com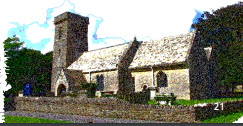 BRIZE NORTON SCHOOLING

We've had a busy term at Brize Norton Pre-School!
| | |
| --- | --- |
| In early March we were delighted to be asked to take part in a fantastic initiative called #freedomboxes. We were asked to get our children to create some pieces of artwork to go into care boxes for the children of Ukraine. The results were amazing and we were extremely proud of the children, as they were of themselves, for producing such fabulous pieces of art. We hope they brought a little smile to some special children's faces. | |
| | | |
| --- | --- | --- |
| | Our allotment is well underway, the children went down to A K Timms to buy seeds. We have potted some of them up and hope for some seedlings to plant very soon. We have already planted our potatoes, carrots, and radishes. Fingers crossed for a good crop this year. A huge 'Thank you' to those allotment holders who have helped us over the past weeks and continue to support us on our allotment, your help is very much appreciated. | |
| | |
| --- | --- |
| | We've been out and about in the village too taking in the sights, visiting the St. rimary School, The Chequers and Humble Bumble Café for our snack. We love getting out and meeting the villagers so please give us a wave if you see us. Over the coming months we have lots planned with day trips out to the farm, activities for the Queens Platinum Jubilee, a visit from Jurassic Encounters, a visit from a magician about 'the magic of reading', visits for our older children from their new primary school teachers, PE lessons and sports day. |
On the 10th and 24th June we're holding two open afternoons for children joining us in September 2022 between 1pm-2.30pm. We'll also be welcoming children and parents on our waiting list for September 2023.


If you'd like to come along please email us at brizenortonpreschool@hotmail.co.uk or call/text us on 07769 617696 to reserve your space.

We are still accepting waiting list applications for September 2022 but at this stage cannot guarantee a space will become available. Why not register early for September 2023 to secure a place?

For those new to the village pre-school operates from the Elder Bank Hall, term time only Monday-Thursday 9am-3pm and Friday 9am-12pm

More details can be found on our website www.brizenortonpreschool.co.uk along with a waiting list application. Please do email us or use our 'contact us' page if you have any questions

Jackie Hampson (Manager)
We've had a very busy term so far!
The Children from years 4,5 and 6 went on a fantastic trip to The British Museum in London in order to support their topic on Ancient Greece. They had a great time and asked many questions of the team there! Whilst they were in London, children from years 1,2 and 3 had an amazing day out to Warwick castle as they have been researching castles this term.
We had a very successful sporting event for Brize; the girls placed second and we came third (only a point in it) overall.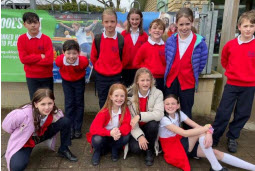 Some of the children admitted they hadn't been swimming since the start of covid and they were a little nervous, so we were blown away at their performance today. They placed in the top 3 in most races with a few actual 1st places in there. They were an absolute credit to the school and we were incredibly proud of them all; well done!
We've also had children who have taken part in the West Oxfordshire Cross Country finals as well as playing tag rugby at school. In the most random activity of recent years... we took part in a record breaking activity with other schools around Oxfordshire. With a total number of 2,597, the school is officially in the record books for helping to achieve the largest game of musical bumps! They smashed the record!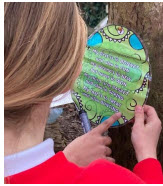 The children ended the term with a disco and e v e r y o n e went home with an Easter Egg bought by the School Association.
Finally, we would like to announce the departure of our Head Teacher, Anna Fairhurst after nearly 8 years. Mrs Fairhurst left at the end of last term to spend more time with her family. We would like to thank Mrs Fairhurst for all of her hard work with the Children, the Staff, the Governors, the School Association and also with the Brize Norton Community. You will be missed.
The Team at Brize Norton Primary School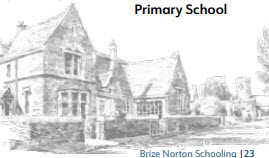 Spring has without a doubt sprung here at HBC, the beautiful daffodils have brightened our view across the recreation ground and the lighter days have seen more families and friends reuniting and visiting our lovely village and café!
| | |
| --- | --- |
| Since our last newsletter much has occurred both in the café and with our Humble horsebox. Thank you to all that supported our first joint social of the yeardonning your Irish outfits and quaffing the Guinness to celebrate St Patrick's day. Much fun was had by all. | |
| | | |
| --- | --- | --- |
| | Mother's Day brought many of you together to enjoy the special sharing boards and we were excited to meet your families over the Easter holidays! With Easter trails, crafting sessions and our pop-up Painting and Block printing classes it's been a busy few weeks. Thank you, @HollyBJones for taking time and sharing your skills with us and your children! | |
With the platinum jubilee celebrations drawing nearer our wonderful weekly crafters are helping us create some bespoke bunting to display around the café and village. We will be running a 'come and join in session' during our Thursday evening opening timesplease come along, bring a friend, grab a coffee and get crafting!
We are always keen to support local small businesses and were super happy to invite the wonderful Lorraine to our Thursday evening slot alongside her preloved clothing sale AKA ' Fun With Fashion' what a buzz there was in our little café and some wonderful clothes to boot too! We have always been passionate about buying local and are slowly building a collection of crafts for you to buy such as the talented Meg who not only painted our horsebox but check out her beautiful Peggy bobs in the café too.
| | |
| --- | --- |
| It is always exciting to get out and about in the horse box- we have recently had the pleasure of supporting the Carterton 10km fun run, Common leys lambing day and Witney hockey club. All of these organisations have such a positive impact on our children, friends and families so we feel very humbled to involved and either sponsoring, donating or just supporting their amazing work. Over the next few weeks we will be hosting the APCAM quiz night, Laura Hyde foundation, our very own Platinum celebrations, big bash and lots of other sporting events! Keep and eye on our social media for more details. | |
So as we move forward, enjoy the long summer days and continue to be part of this amazing community we as always want to thank you all for your friendship, support and kindness.
Keep safe, look after each other and keep eating cake!
Bev Campion (Manager)
The year is flying past, with the football season finished and the cricket season has already started, it won't be long before we are celebrating the Queen's Platinum Jubilee long bank holiday weekend.
| | |
| --- | --- |
| | More details of theses celebrations are in this newsletter and should be a great four days of celebrations. |
Our 'newish' committee have been looking after the running of the S&SC for just over a year now and have made great strides forward in the planning of social events and helping support the sporting teams of the village. More needs to be done but we are moving in the right direction.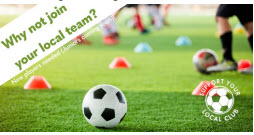 I would like to give notice that BNS&SC are holding their AGM on Monday 16th May.
Please do come along and support in any way you feel would help. Ask questions, volunteer, give advice; All are welcome.
Here are a few things that are on the agenda:-
• JUNIOR FOOTBALL

• SENIOR FOOTBALL CLUB AND THE 60 YEARS CELEBRATION

• TENNIS CLUB • NEW PAVILION

• GROUND MAINTENANCE

• SOCIAL EVENTS

• ELECTION OF OFFICERS

• DEVELOPMENT OF THE EXISTING PAVILION

• AOB
Look forward to seeing you then.
Tim Gush (BNS&SC Chairman