You are here: Community > Brize Norton > Parish Council Newsletter
Please note that this might not be the latest issue of the Parish Newsletter.
For a full listing and to find the latest issue click here.
Here is the text from the September 2010 Newsletter Published here with permission of the Parish Council.
| | |
| --- | --- |
| The NEWSLETTER BRlZE NORTON PARISH COUNCIL | BRIZE NORTON |
| September 2010 | Issue no. 126 |
---
CHAIRMAN'S REPORT
The Chairman's report is handed over to Councillor Stuart Guest for a report on the new waste collection service.
WHAT A LOAD OF RUBBISH
As many of you may be aware the district council is about to launch a new waste collection service, so the purpose of this article is to try and explain the new service and alleviate any fears and concerns that you the residents may have.
Firstly if you consider the 5 councils in the Oxfordshire County and the way in which they collect and separate their waste, this new service can only be described as the Rolls Royce of refuse collection if you have not heard or seen the information, here in the West Oxfordshire district we are about to have a FREE fortnightly green waste collection service, (for those who want it) weekly recycling collections, weekly food waste collections and a fortnightly residual waste collection.
Green waste is everything from the garden. Like I said, this is now going to be a free service but you must tell the council that you want to be part of it. By the time this goes to press you should have had a green sticker placed on you wheelie bin.
WEEKLY RECYCLING COLLECTIONS.
West Oxfordshire District Council (WODC) is the only council in the Oxfordshire county that will be offering weekly recycling collections. For more information on what CAN and cannot be recycled please either telephone WODC on 01993 861020 or see the website. WODC thanked those residents who sort out all the recycling but have re iterated that there is no need to do this as the new service will be separated at the kerbside. Should you wish to separate your recycling please feel free to do so as this will greatly help the collection crews. WODC have said you can have as many recycling boxes as you need.
Weekly food collections - the council will soon be delivering a small 5 litre kitchen caddy and a larger 25 litre food waste collection caddy, the small one should be placed in the kitchen and the food waste from this is transferred into the larger 25 l container, there are caddy liners available to purchase or you can line the caddy with a sheet of newspaper or just leave it as it is. One point the council have asked to emphasise is please do not use plastic bags as these cannot be recycled with food waste.
And now for the bone of contention, like I said at the start this is the Rolls Royce of waste disposal but there are still some residents who see it as a con, or as a reduction in service or the fact that we're going to have 100's of bins in our garden, and then the smells and all the other problems you can imagine. By Sept / Oct the council should have delivered your new waste bin, this is about 2/3
of the size of your current wheelie bin. This will be grey (squirrel grey to be precise) and this is for your residual, non recyclable waste. So what is non recyclable waste? This is animal waste, nappies, the contents from your hoover, polystyrene, glassware that's used for cooking, the list is exhaustive and more information can be found on the website or by telephoning WODC.
We will not be having 100's of bins. What we will be having is a bin for garden waste (this is your current refuse bin) a small 180 litre residual waste bin, as many or as few recycling boxes as you require and a small 25 litre food waste bin this about the size of a small bucket. All of our waste will be collected on the same day, so one week it will be food waste, recycling and garden waste, the next week it will be food waste, recycling and residual waste.
So what about the smells from the food waste in my new bin? There shouldn't be food in you new bin as the food should be in your kitchen caddy.
I don't have a big enough garden so I don't want to be part of this new service.
That's ok the council will be coming round and those who do not wish to be on the new green waste scheme will have their bin collected.
I can't see the point in recycling as I asked the bin man and he said it all goes to landfill.
For the past 4 years in Brize Norton our recycling waste has been collected in a bin lorry, dustcart, ash wagon, wheelie bin truck, whatever you want to call it. Sometimes it is possible to ask the question to the wrong operative, sometimes the operatives do not understand English.
I don't want to recycle, or separate my food waste. Yet again that's fine. If you chose not to participate in this new service the council do not have a problem with this , but what you should bear in mind is the fact that your small grey bin will only be emptied every fortnight, this is where the smells come from, the rats the vermin etc.
I'm an elderly / disabled resident and I can't manage all those bins. If this is the case then the council and the contractors can arrange for an assisted collection, this is where the collection crews come to you property and remove your bins for you.
I've heard that we will get fined if we don't recycle or put the waste in the correct bin.
There is no truth in this rumour, if you make a mistake that's fine, as we are human at the end of the day. If you persistently get it wrong the council may take further action, what you need to remember is it costs between £40- £50 per tonne to landfill waste this is set to rise to £150 per tonne in the near future, if the councils get penalised they recover the costs from local taxation, i.e they raise council tax.
I'm going to keep my black bin and put that out with all my rubbish.
Great idea but when the new service starts the collection crews are under strict instruction to only collect the grey bins so if you decide to have extra containers they will not be emptied.
I hope this can help alleviate any concerns you may have, there will be more information coming through the post in the near future, should you need any help or need to ask any questions please either contact WODC or if you prefer you can contact me, Stu Guest on 01993 841275 or sweaty6969@msn.com and I will try to explain it further to you.
BRIZE NORTON DANCE CLUB
We meet every Thursday in Elderbank Hall 7.30pm till 9.30pm and dance to CDs. Ballroom, Latin and Sequence Dancing with tea and biscuits - only £2 each. We also run Sunday tea dances 2.30pm till 4.30pm in Elderbank Hall. Future dates are:
Sunday October 10th

Sunday November 14th

Sunday December 12th
Joy Douglas - 842373
ST BRITIUS CHURCH
Our Harvest Festival celebration will take place at the Family Service on Sunday 3rd October at 9.15 am. All harvest gifts brought to church will be combined with the children's gifts at school and taken to The Porch Steppin' Stone Centre which helps the homeless in Oxford.
If you haven't been to church recently, why not join us on Sunday 7th November for "Back to Church" Sunday. It is a family service at 9.15 am to celebrate our Patronal Festival for Saint Britius day. This was a very popular service last year and again we will be inviting all couples who have recently married, and families whose children have been baptised at St Britius to join us, and everyone else who would like to come. There will be refreshments afterwards including mulled wine.
The Service of Remembrance will take place on Sunday 14th November at 10 am with the wreath laying at the War Memorial at 11 am.
FRIENDS OF ST BRITIUS
The "Stop the drips at St Brits" campaign goes apace. Total fund raising to date is a massive £19,300 in just 9 months, but we still have a long way to go. Thanks to everyone who has organised and supported the many events from Bridge Lunch to the 3 Peaks Challenge. We are very grateful to Foxbury Farm for allowing us to collect the gate money, nearly £2,000, at their Open Day.
A grant application has been made to English Heritage. The Harvest Supper on 25th September (see box below) will be a chance to bring or meet all your friends, enjoy a delicious 2 course meal with wine, listen to live music and support our fund raising effort. Do come!
BRIZE NORTON VILLAGE PRE SCHOOL
We are looking forward to another lovely year at the village pre-school, we still have places available for children from 2 to 4 and a half. We have a large indoor room, messy area and a large outdoor area with a newly installed large sandpit.
We will also be visiting our own allotment where children will grow fruit and vegetables and then learn to prepare and eat them at preschool. We also are offering cooking lessons for our children this term.
The pre-school offers sessions as follows:
Monday AM 9am > 12pm
Monday PM 12pm > 3pm

Tuesday AM 9am > 12pm

Wednesday AM 9am > 12pm

Wednesday PM 12pm > 3pm

Thursday AM 9am> 12pm

Friday AM 9am > 12pm
We also offer a lunch club on Monday, Tuesday and Wednesday.
For enquiries, to come and visit us or for a prospectus please contact brizenortonpreschool@hotmail.co.uk or telephone during pre-school hours on 07769617696.
Brize Norton Village Pre-School also aids in the running of Brize Norton Village Toddler Group, this is held on a Tuesday afternoon from 1.15pm > 3pm, the group costs £2 per session per family, this includes drinks, snacks, teas and coffees. We have a large array of toys, outdoor games, art activities and a soft area for babies.
**Please come along and support us as without new members the Toddler Group will be forced to close!**
Lauren Jacobs
Brize Norton Village Pre-School Chair
lauren@laurenjacobsmakeup.co.uk/ 01993 841242
BRIZE NORTON OVER 60's CLUB
Our river trip with cream tea was very enjoyable - the weather was beautiful. We also had good weather for our picnic on Crichley Hill. The coffee morning raised over £100 towards our funds.
Our future programme is:
September 7th Visit to Lower Slaughter Mill

September 21st AGM 13th year

October 5th Meal out. Venue to be decided

October 8th - 11th Weymouth holiday

October 15th "West End Musicals" Witney show

October 19th PCSO Sarah Holmes

November 2nd Shopping trip. Coventry, Reading or Bath

November 16th Ken on steam trains

December 7th Coffee morning / Bring & Buy. 10.30am at Joys

December 21st Christmas Party

The club is open to village residents. We meet on 1st and 3rd Tuesdays 2.30pm to 4.30pm at Joys,
4 Squires Close.
Thanks to Edna, Carol, Benita and June for our lovely home made teas.
Joy Douglas
842373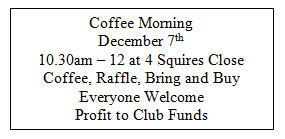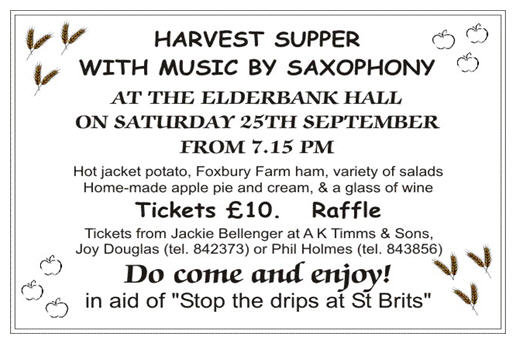 WIDOWS MONEY. FUEL ALLOTMENT CHARITY
There is a small gift of money available to every pensioner or widow living in Brize Norton. The money is given out at Christmas. The money comes from rent from a field which was given to the village. Please give me your name if you are not on my list. If you don't tell me then I don't know.
Joy Douglas - 842373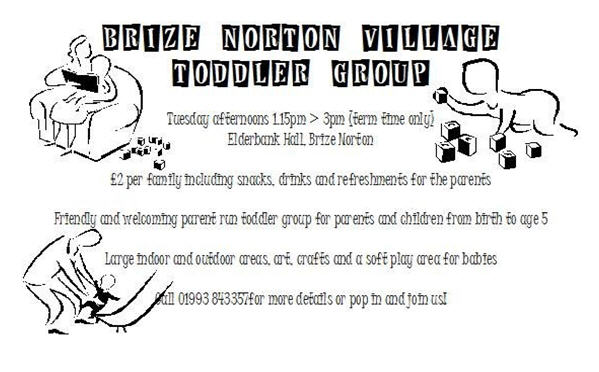 All entries for inclusion in the December issue should be received by the 15th November

BRIZE NORTON PARISH COUNCIL
Chairman: Keith Glazier (843640) Vice-Chairman: Garry Griffin (841616)

Councillors: Fred Bellenger, Stuart Guest, James Gillies, Lindsay Meeks. Laurence Taylor

Clerk to the Council: Jo Webb, 18 Chichester Place, Brize Norton (840890)

Parish Representatives:-

Oxford County Council: Jim Couchman, Dovecot House, Langford (01367 860289).

WODC: Verena Hunt, 2 Rocky Banks, Brize Norton (841853)

Meetings held in the Pavilion, first Tuesday every month at 7.30 pm, all welcome to attend.
USEFUL CONTACT NAMES
| | | |
| --- | --- | --- |
| Organisation | Contact | Telephone No. |
| | | |
| The Church | Rev James Maddern | 844175 |
| The School | Mark Smith (Head) | 842488 |
| School Governors | Tracy Barnett | 850471 |
| Football Club | Fred Bellenger | 841189 |
| Ladies FC | Jenny McDowell | 07894 495500 |
| Cricket Club | Tim Gush | 846730 |
| Elderbank Hall | Diane Davies | 843430 |
| Horticultural Show | Chris Thorne | 842013 |
| Women's Institute | Anne Hancock | 842197 |
| Over 60's | Joy Douglas | 842373 |
| Post 0ffice Sports Pavilion | Tues & Thurs 9:30-12:30 pm | |
| Police (Carterton) | Mon-Tue 8.30-12.00 & 13.00-17.00 Fri close at 16.00 | 0845 8 505 505 |
ELDERBANK HALL ACTIVITIES
The following table lists only the regular events. There will be other bookings and readers should not assume that the hall is available without reference to Diane Davies (see below)
Pre-school (3-5 years)
Mon - Fri

Mon & Wed

9 am - 12 noon

12 noon - 3 pm

Lauren Jacobs
841242
Brownies
Mondays
6 pm - 7.30 pm
Mrs B Thorne
842013
Badminton
Mondays
8 pm - 10.30 pm
Mrs Claridge
843196
Toddler Group
Tuesdays
12.30 pm - 3.00 pm
Lucy Lavers
843357
West Oxfordshire Woodturning Assoc
1st Tuesday in the month
8.00-10.00 pm
Andrew Tinsley
832041
Women's Institute
2nd Tuesday in the month
7.30 pm - 10 pm
Anne Hancock
842197
Rainbows
Wednesday
3.30 - 4.30pm
Mrs B Thorne
842013
Dancing Club
Thursdays
7.30 pm - 10 pm
Joy Douglas
842373
Karate
Fridays
6 pm - 7.30 pm
Matt Webb
840890
Judo Club
Saturdays
9.30 am - 11.30 am
Jonathan Gerrans
01865 884339
The Hall is available for Private Hire Contact:- Diane Davies on 843430

The Pavilion is available for Private Hire:- Jo Webb 840890