It only seems like yesterday that I was sitting at the dining room table writing my report for the Summer edition of our Newsletter and here I am again writing my Autumn report. I hope that those of you who have been away have had a lovely time and those still planning time away equally have a great getaway.
A lot of things have been happening in and around the village in the past three months. Our new Handyman, Gary Jarvis, has been busy around the village, especially around the recreation ground making it look good for the Village Bash.
This year's event was very well attended with some new attractions that went down very well. The 'Companions of the Crow' was very well received, the Bampton Archery Club was kept busy all afternoon and the 'Box Tower Challenge' turned out to be very competitive! I must thank Bloor Homes for sponsoring the event and for providing raffle prizes and judging what has now become our annual scarecrow competition.
Early afternoon, before the Bash began, the Ride of Respect drove through the village. This is an annual mass ride by motorcyclists to pay tribute to tri-service personnel and to the fallen and their families and helps to raise funds for Military Charities. The noise of the motorcycles going up Station Lane certainly drew people onto the street to wave and show their support.
Once school term had ended, Elder Bank Hall closed for four weeks whilst the main hall, bar area, entrance hall and the toilets were redecorated. At the same time, many of you may also have seen a lot of activity in the Pavilion as Bev Campion had been preparing to open the Humble Bumble Café on Saturday, 24 August. The 'seed was sown' in her mind from the results of the Neighbourhood Plan Community Survey and the Parish Council wish her the very best of luck with her new venture and hope that she receives the support from villagers and the wider community to make this a thriving business. I can already vouch that the shortbread is particularly good!
Brize Meadow has also seen its first families move in and I hope you will join me in welcoming them to Brize Norton and wishing them happiness in their new homes. I hope they will join us for our annual Bonfire night on the recreation ground. This year it's to be held on Thursday, 7 November. Please watch out for Posters around the village, our noticeboards and Facebook page for more details.
There is also to be a second quiz night being held at the Chequers on Friday, 11 October to help raise funds for next year's Village Bash – more details are to follow later in the Newsletter.
The Parish Council has been working with Bloor Homes and OCC regarding 'build-outs' in three locations, so in the coming months we will see these being installed. Hopefully, these measures will go some way to help try and cut down on the movement of vehicles through our village. The residents of Rocky Banks in Burford Road have also been successful in working with OCC and the Parish Council to have traffic calming measures put in place to slow traffic down entering the village from the A40 and leaving the village from Monahan Way. We will also continue with our Speed Watch campaign hopefully we can reduce speeding and make drivers more aware.
By the time this Newsletter comes out, the August Bank Holiday will have been and gone and our Horticultural Show will have taken place on Sunday, 25 August. The posters that went up around the village showed that the committee had put a lot of hard work into making it a good event with the addition of a seed and plant swap.
We also have a new Councillor. Chris Woodward has recently joined the Parish Council and brings with him a wealth of experience having previously been Witney's Town Mayor. Since completely renovating the Old Chapel and moving in, Chris and his family have also renovated the cottage behind and found the time this year to open their garden in June to support the NGS Open Garden Event. A busy man indeed and about to become busier! Welcome to the Team Chris.
As I said at the beginning of this report, it's been a busy quarter. I hope the village will continue to thrive, the families in Brize Meadow will feel they are part of our village community and come along to our village events and join the various clubs and activities.
Wendy Way
Chairman
We are pleased to introduce you to your councillors, with their key responsibilities
Wendy Way — Chair
Keith Glazier—Vice-chair & Village Maintenance
Ben Campion – Liaison with Brize Meadow
Les Goble – Neighbourhood Plan
Pip Squire - Planning
Chris Woodward — Building Maintenance
Cllr Alex Postan WODC (District Councillor)
Cllr Nicolas Field-Johnson OCC (County Councillor)
Please contact the clerk. clerk@brizenortonparishcouncil.co.uk
Our Neighbourhood Plan is progressing well. We have now submitted to WODC, proposals for our 'Objectives and Indicative Policies' along with 16 different evidential documents (which include the Community Survey Results and Village and Landscape Characteristics) for their initial screening.
We hope, subject to a positive response from WODC, that we will be able to invite you to our next Community Engagement Event in the near future where we can present to you our proposed policies and the supporting evidence behind them.
In the last Newsletter, I mentioned the various projects that have taken place as a result of the Community Survey we carried out in 2017. These included Flashing Amber Lights each side of the school, Community Speed Watch Scheme, Connectivity between our village and the Brize Meadow development and the designation of Ting Tang Lane as a Public Right of Way.
Another project the Community said they would like to see in our village is a café. I am therefore really pleased to say that the Humble Bumble Café, will be opening on 24 August in the Sports & Social Club and it will be owned and managed by our own 'Queen Bee', Bev Campion. I hope you will join with me in wishing her every success and support for this new venture. I look forward to meeting you over a cup of coffee.
Les Goble (Chairman, Brize Norton Neighbourhood Plan Steering Group)
Brize Norton Village collected almost £1,000 last year and it would be lovely to break the thousand pounds mark this year. All of the money goes to supporting those in need within the Armed Forces community, service and ex-service personal and their families. For more detailed information please go online and visit Poppy Appeal/Royal British legion and you will find lots of stories from those that have been helped.
To do this we rely on people to give up a little of their free time to go door to door collecting, the more people who help then the shorter the rounds are. I would love a few more people to help so if you could spare half an hour, we collect anytime between 26th October until 9th November, then call me 01993 842013. I have organised this on my own for the last 22 years and help would be much appreciated, you can phone me for a chat about what this entails before making any decisions.

I would also like to take this opportunity to thank everyone who already helps, the local businesses who have collecting boxes as well as all of the door to door collectors, you did a great job last year and I hope to see you all again this year, hopefully with a few new helpers

Thankyou once again, Barbie. Thorne

PUBLIC RIGHT OF WAY 143/3

A big Thank You to Bloor Homes and OCC for allowing the stile to be removed from the Burford Road footpath entrance into the Brize Meadow development. This came about from a request by Mrs Bellinger who wanted to walk along the footpath between the north east corner of the development and Carterton Road but was unable to do so because of the existing stile. As you can see from the photo, she is now able to use the footpath.
TING TANG LANE
Progress is still continuing with designating this as a Public Right of Way. We originally thought that it would become a 'Bridleway' (there are existing signs on the A40 indicating this) but OCC are now consulting on making it a 'Byway Open to All Traffic' (Known as a BOAT) due to the fact that in its long history, it was a 'road' that linked Worsham and Brize Norton for vehicular traffic. Although today, we consider vehicular traffic to be 'motorised vehicles', in period, this would have been horses and carts.

For your information, the definition of a Byway is as follows: -
| | |
| --- | --- |
| | A byway in the United Kingdom is a track, often rural, which is too minor to be called a road. These routes are often unsurfaced, typically having the appearance of 'green lanes'. Despite this, it is legal to drive any type of vehicle along certain byways, the same as any ordinary tarmac road. In England & Wales, a Byway Open to All Traffic (BOAT) is a highway over which the public have a right of way for vehicular and all other kinds of traffic but which is used by the public mainly for the purposes for which footpaths and bridleways are used . walking, cycling. |
HEDGES AND WEEDS
Just a gentle reminder that pedestrians should have full access to a footpath to safely walk along and not be hindered by hedging or trees growing from residents' properties too far over the path. Also weeds that grow around boundary walls or fences adjoining a footpath are the homeowners' responsibility to remove. There are no authorities who undertake this work, so it is up to all of us to keep the footpaths tidy.
REPORTING ISSUES
If you find any problems with the footpaths, stiles or signs then please let me know via the Parish Clerk (clerk@brizenortonparishcouncil.co.uk), preferably with a picture of the issue, and I will speak to the landowner. I look forward to meeting you should our 'paths cross'. Happy walking!
Les Goble (Footpath Warden)
By the time you are reading this the cricket season would have finished and the football season will be in full swing. The cricket has been very successful, and at the time of writing, there is a good chance of promotion – fingers crossed. Thanks to Fred for his perfect cutting of the outfield.
| | |
| --- | --- |
| | The football club run two teams and are always looking out for new players, so if you are interested come along to a Tuesday training or Saturday afternoon game and sign on! |
Up until recently the BNS&SC were far more sporting … BUT now we have become more social! In conjunction with, and tremendous support from Humble Bumble Café, the social area has been transformed into a clean and relaxing place; somewhere to enjoy a fresh coffee or tea and homemade cakes and savouries.
The Humble Bumble Café was opened on 24th August and will be open for business most days. 08.30 until 16.30. It will open for the school run – pop in after dropping the children off for a moment of peace and quiet! Visit the Post Office and take a seat in café for a cup of tea and a chat!

It is hoped that this community based enterprise will offer us all a place to seat and relax, a meeting place to enjoy a few quiet moments during our normally busy day. Do call in and be surprised at the transformation of the old pavilion and the delicious refreshments on offer!

Thanks must go to Bev and Ben Campion for their hard work on this project but even a bigger thank you to them for their enthusiasm and drive to get the project off the ground. Full details can be found at the pavilion or on the website https://humblebumblecafe.wordpress.com.

The plans are still in place to find the money (grants etc.) to complete the renovations of the pavilion – new changing rooms, toilets etc. and the Club will be again applying for grants this September.
If you would like to join the committee of the S&SC you will be warmly greeted. There are big changes being planned and fresh ideas are most welcome.
Thanks to all for the help and assistance.
Tim Gush
Chairman
| | | |
| --- | --- | --- |
| | The sun shone brightly on Sunday 7 July for the annual Village Bash. Ten scarecrows stood tall to be judged – congratulations to Phil and Jean Butcher and to Grace Gush. The scene was set for an afternoon of fun, games, entertainment and village get together. | |
| | There is a list of 'thank yous' – firstly to those who entertained us – The Companions of the Crow, the medieval re-enactment group who fought valiantly in the beautiful summer sun, to Richard Wargent for the live saxophone music, to Chris-Anne and her canine assistant (K9 Playtime Academy), Mr Rowland for the vintage equipment displays and mini spitfire, and to the children of the school and the gymnastics club for their displays. Thank you also to Bampton Archery for providing the facilities to enable people to have a go at archery and perhaps inspire a new interest by joining their club, to Ed Large and the Excel Tennis academy for fun and games on the tennis courts and the fun provided by the bouncy castle. | |
| | Thank you to Bloor Homes for their judging of the scarecrow competition, generous sponsorship of prizes and assistance in funding advertising and facilities, and to Parkers for advertising the event on their sign boards through the village. We are also grateful for the assistance we received from the Witney Lions club for the use of their marquees and help in erecting them and taking down. | |
| | Thank you to The Chequers for allowing us to recycle the large amount of cardboard in the pubs commercial bins after the box tower challenge. Thanks also to the Parish Council and Elder Bank Hall committee for the use of the hall and recreation ground facilities and those of you who helped man stalls, serve teas, and assisted in any way setting up and packing away. | |
>Lastly, but by no means least, to everyone who attended and supported the event. Across the school PTA, pre-school, WI, Sports and Social club and Church PCC we raised just over £3,000. The committee were really pleased by the turn out from villagers and visitors alike; what a great way to bring everyone together. Thank you one and all.
We have already started to look to next year – Sunday 5 July 2020 – we would welcome anyone who would like to get involved by being on the organising committee or to hear from you if you have contacts or recommendations that may be useful to us (drop a line to the parish clerk).
| | |
| --- | --- |
| | To fund putting on next year's event please support the quiz night on Friday 11 October – we look forward to seeing you. |
Twenty one children have just left us to move on to 'Big School'. We have 15 new children starting with us in September which we are very much looking forward to.
We have very limited spaces for 2, 3 and 4 year olds available now from September. If you are interested please email us on brizenortonpreschool@hotmail.co.uk
Our preschool operates from the Elderbank Hall, term time only Monday-Thursday 9am-3pm and Friday 9am-12pm. Sessions start at £12.50. Funding is available but is subject to terms and conditions.
Please contact us on 07769617696 for more information or please see our website www.brizenortonpreschool.co.uk or please email us at brizenortonpreschool@hotmail.co.uk
During the 2018 Annual Parish Meeting a discussion was had as to what the new Bloor Homes Development should be called. Several suggestions were put forward to WODC and the decision was made to call it Brize Meadow.
The Parish Council then turned its attention as to what the roads in the Estate might be called considering that the roads around Shilton Park are named after flowers and trees. The suggestion was put forward that it would be lovely to recognise the service men and boys who lost their lives in WWI and so we contacted Bloor Homes and WODC and put its thoughts to them. This was received favourably, and the Parish Council set about contacting relatives of the families for permission to use their names. The first five roads on Brize Meadow have now been named as Archer Place, Bellinger Way, Faulkner Place, Parker Close and Timms Lane.
The second phase of naming and numbering streets is underway and the next five names have been submitted for use. They are Blackwell, Castle, Garratt, Godwin, Upstone and Wilkins.
NEWSLETTERS
The Parish Council publish this newsletter, which should be distributed around Brize Norton village at the beginning of March, June, September and December. If you wish to submit an entry the deadline is the 15th November , 15th February and 15th April. If you do not receive a newsletter please contact the clerk.
During May I took an amazing but emotional trip to Belgium and Northern France with 28 other Year 9 students. I had taken with me the list of names of soldiers from our Memorial in Brize hoping to be able to find one of them somewhere in one of the cemeteries.
We took the ferry from Dover to Calais after a long bus drive and then headed for Ypres where we stayed for three nights. During our journey we stopped off at the Essex Farm Cemetery and Dressing Stations that also has a monument which commemorates the writing of the war poem 'In Flanders Fields'. After that we visited a German cemetery. All of the headstones are black with five names on each, quite the opposite of the British cemeteries which are white stone with name, age, regiment and also shows their religious symbol on each one. As we walked into the cemetery there is an arch which was where Hitler stood once he invaded France in 1940. The atmosphere was very cold. We then visited St. Jan cemetery for the French and Belgian soldiers. The headstones were all crosses and were all aligned. We then visited the Canadian memorial in mark of the first use of gas on the Allies. All of the cemeteries are kept immaculate. We arrived at Ypres Lodge before visiting the Menin Gate.
On the Saturday we went to St George's Memorial Church which is a little English church in the centre of Ypres. All the cushions are embroidered with poppies on them and the stain glass windows also has poppies in them, as well as plaques on the walls remembering the different regiments. I found the Oxford and Buckinghamshire plaque. It is a really beautiful place.
We visited the Pool of Peace, which is a crater made by the explosion of a shell and is now filled with water. It is 12 metres deep and 125 metres wide. The memorial museum at Passchendaele was the next stop and we had samples of what the gas would have smelled like which made me think of two of our Brize men who were gassed, Thomas Powell and Frank Lock.
Sanctuary Wood is a museum where the Allied trenches are preserved by a farmer. We went in the trenches; they were muddy and surrounded with shell craters. It must have been awful conditions and to have been fired at at the same time. I can't imagine how the soldiers would have felt knowing they had to go over the top. In the evening we went to the Menin Gate for the last post ceremony. Burford School laid a wreath on which I wrote a message. It was a very moving experience and I cried within the first two minutes, making me so grateful to all those who lost their lives and to the men of Brize Norton who lived and walked where we do today.
On the Sunday we went to Vimy Ridge where the Canadians had planted trees for their lost soldiers. The ground was very bad where it had been shelled so badly. Then we visited he British Memorial at Arras. Here on a huge wall of names I found Albert Edward Faulkner of Brize Norton, age 25. I laid a cross for him and one for Charles Henry Archer (Mrs Bellinger's and Mrs Watts' Grampy), as I said I wanted to find him. However, his memorial was too far away to visit.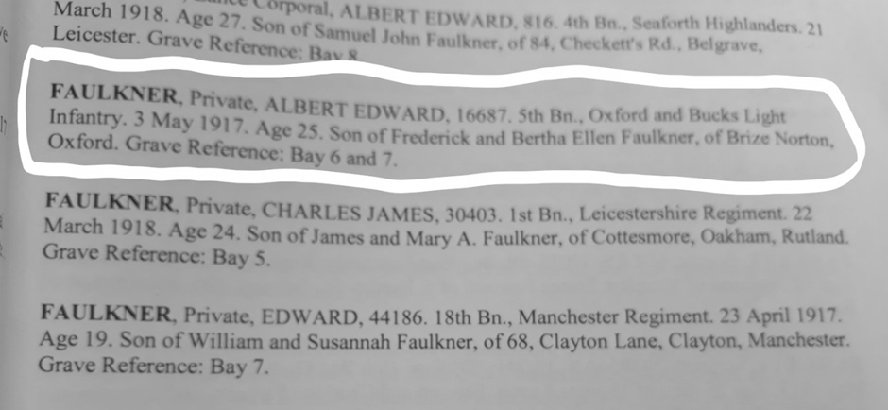 On our last day we headed home towards Calais, stopping on the way at the Bunker d'Eperlecques which was a bunker built by the Nazis for the launch of the V1 and V2 rockets during WWII. It was a really interesting place. There were some cattle wagons there that Jewish prisoners were transported on to help build the massive concrete bunker. We were allowed to get in and could see how crammed in they all were.
We took the Eurotunnel home and arrived home with opened eyes to how horrific the 1st World War was, what conditions the men had to live in and how men left their families to travel to another country to fight.
I would recommend to everyone to go and visit the cemeteries and museums.
We would like to thank Martha for her moving article and effort in finding and honouring the lost service men from our village.
We would love to hear from other students to submit a written piece involving their interests or recent experiences for the next copy of the newsletter
During 2020 heralds the 75th Anniversaries of two momentous occasions that occurred within living memory.
Millions across the world were affected by the second World War. The relief of the suffering was noted by Victory in Europe (8 May 1945) and Victory in Japan (15 August 1945). The end of hostilities was widely celebrated across the world, none more so than in Great Britain. The ringing of church bells, bonfires, dancing in the streets, fancy dress and street parties for the children and dancing for the adults to the "Big Band" music of the period.
Next year the early May Spring Bank holiday has been moved to Friday 8th May – VE Day itself - to celebrate (and it is suggested we incorporate VJ Day on the same day).
I wonder whether there are villagers who would wish to commemorate the event by organising a village function or a variety of functions to celebrate the event?

If you are interested in organising events/functions, please contact me on esox123@btinternet.com.

Keith A Glazier, Councillor
Monday 19:45 Elder Bank Hall, & Wednesday 20:00 Brize Norton School,
Both toning, conditioning and circuits sessions are for any ability with a no pressure atmosphere, £5 per session.
Contact Tom Wattleworth on 07892945060 or TW-FITNESS on Facebook
BRIZE NORTON PARISH COUNCIL
Parish Council meetings are held on the 1st Monday of each month. Meetings are held in the Brize Norton Sports and Social Club, opposite the Elder Bank Hall and the public are welcome to attend.
The next meetings are:
Monday 2nd September 7:30pm
Monday 7th October 7:30pm
Monday 4th November 7:30pm
Monday 2nd December 7:30pm
If you wish to bring an item to the council's attention at a meeting, please contact the clerk at least one week prior to the meeting in order for the Council to discuss the matter brought before them. Members of the public are welcome to attend council meetings.
BROWNIES
Brize Norton Brownies are a friendly group of girls who meet on Mondays in Elder Bank Hall from 6:00pm until 7:30pm.

We follow a Guiding program to learn news skills, team work and leadership qualities while working towards badges but this leaves us lots of free time to fit in all of our favourite games, cooking, crafts and the Brownies are encouraged to set the agenda. This means that the girls get to choose what we do. We also have outings, both as a unit and also with larger Guiding groups, including overnight pack holidays. We are looking for new members, Brownies is for girls aged seven to ten and a half, if you are interested please get in touch, either through the Guiding website or ring me on 01993 842013 or drop in for a visit, we will be starting our new term with a fun night on Monday 9th September. If you are not yet seven you are still welcome to visit and you can put your name on the waiting list to join when you are seven.

Hope to see you soon,
Barbie Thorne 842013 or go on the Guiding website.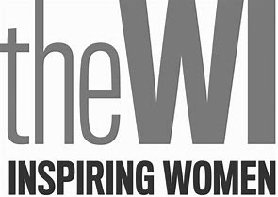 The Brize Norton Women's Institute is hosting a CPR and Defibrillator Workshop on Tuesday, September 17, 2019 from 7:30 p.m. - 8:30 p.m. in the Elderbank Hall in conjunction with Christopher Tancock from "Pint of Life" (www.pintoflife.org).

Please note that a defibrillator is located at the Elderbank Hall, therefore, we encourage residents of Brize Norton to take advantage of this opportunity, in order to prepare yourselves with proper procedures, in case you are ever faced with an emergency situation.

The Presentation and Demonstration will last approximately 30 minutes. Each person will be supplied with the appropriate kit in order to practice CPR skills and use of the defibrillator. Christopher will provide feedback and answer any questions you may have.

There is a fee of £3, per person, and due to limited space for 30 persons, we encourage those who are interested to register by contacting Janet Simpson at e-mail - janetalburysimpson@gmail.com or by calling Carpenters Bed and Breakfast at Tel: 01993-844222 by September 9th. As several persons have already registered, we urge you to make contact as soon as possible.

Due to the expense of the equipment used in the training sessions, a separate donation box for "Pint of Life" will be available to enable them to continue to teach life-saving skills to local communities.

Refreshments will be served following the Workshop session.
OTHER UPCOMING WI EVENTS
Ladies, please feel free to join us on the second Tuesday of the month at 7:30 p.m. in the Elderbank Hall, as the Brize Norton Women's Institute meet in fellowship and to be of service to the BN community.
September 10 - "The Hidden History of Nursery Rhymes" - by Moira Byast
October 8 - "WODC Recycling" - by Sian Edwards
November 12 - "Fabric Baubles [Xmas]" - by Karen Holland, Lechlade Craft Barn
December 10 - Christmas Lunch
For additional information regarding the Brize Norton WI please contact -
Shelagh Chatterton, President
Tel: -01993-843136
| | |
| --- | --- |
| On Monday 5 August the service of Institution, Induction and Installation of the Reverend Drew Tweedy as Team Rector of the Benefice and his wife Billie as licenced lay reader was held. We welcome them both to the Benefice and look forward to working with them. We invite you to St Britius to meet with Drew and Billie at his first service of Sunday worship on Sunday 8 September at 9.15am. | |
| | |
| --- | --- |
| | The annual Oxford Historic Churches Trust 'Ride and Stride' event is Saturday 14 September. If you would like to support this initiative by taking part, sponsoring individuals visiting the churches, or even helping 'man' the church on the day to greet the cyclists please contact Jacquie Griffin – 01993 841616. |
| | |
| --- | --- |
| We welcome you to celebrate the festival of Harvest on Sunday 6 October at 9.15am. All harvest gifts (non-perishable please) brought to church will be donated to The Besom project, a local charity that helps local people with food parcels in the event of personal crisis. We will also be welcoming the school to celebrate harvest at their service. | |
Sunday 3 November is an All Age Family Worship service at 9.15am to celebrate our patronal service and "Back to Church" Sunday. We invite recently married couples and families whose children have been baptised at St Britius to join us, and everyone else who would like to come. There are activities for the children and refreshments served afterwards.
| | |
| --- | --- |
| | On Sunday 10 November is our service of Remembrance at 10.00am lead by Rev Ian Howard with the wreath laying at the War Memorial at 11.00am and refreshments in the Church afterwards. |
On Wednesday lunchtimes please join us for fellowship and a chat over lunch, 12.30pm-1.30pm. There is soup, cheese, doughnuts and a warm welcome. Contact Ben Campion 358690 for more information.
Rev Drew also invites you to join him in morning or evening prayers. The prayer meetings will be about 10 minutes using a short service book. At St Britius morning prayers will be on Mondays and Wednesdays at 8.30am and evening prayers on Tuesdays and Thursdays at 5.00pm.
For details of the church services refer to the notices on the church door or log onto the website www.bncommunity.org
We meet on the 1st and 3rd Tuesdays of each month with an outing or a meeting. We are a village group of 27 members. Meetings are at 4 Squires Close at 2pm. We enjoy sandwiches, tea and home-made cakes, thanks to June, Connie and Benita.
We have recently enjoyed two cream teas and a meal out at Lyneham Golf club. Also we have had a talk by Bob, seated exercise with Sue and a trip to Thrupp for tea by the canal.
Our future programme is as follows:

Tues 17th September AGM and poems by Doreen
Tues 1st October Meal at The Chequers
Tues 15th October Seated exercise with Sue
Tues 5th November Martin Way talk on the Cotswold Wool Trade and shepherding
Tues 19th November Coffee Morning 10.30am at Joy's, 4 Squire's Close. Bring and Buy, Raffle, Everyone welcome
Tues 3rd December Flower arranging by Anne
Tues 17th December Christmas meal at The Trout, Lechlade
For more information, ring Joy on 842373 or look on the village notice boards.
| | |
| --- | --- |
| We meet every Thursday evening in the Elder Bank Hall from 7.30pm-9.30pm. We dance ballroom, Latin and sequence dances to CDs. We have tea and biscuits in the interval. We start again after our summer break on Thursday 29th August. For more information please ring Joy on 842373 | |
COFFEE MORNING – TUESDAY 19th NOVEMBER
OVER 60'S CLUB
Everyone welcome - 10.30am 4 Squire's Close
Bring and buy and raffle
We are a small village charity which provides a small monetary gift to Widows & Pensioners at Christmas time If you are a Brize Norton resident Widow/Pensioner & would like to be added to our list please let me know by mid-December.

Fred Bellenger 841189 f.bellenger@sky.com.
SEPTEMBER
Monday 2nd September 7:30pm Parish Council Meeting
Sunday 8th September 9:15am St. Britius Service with Rev. Tweedy
Monday 9th 6:00pm Brownies starts
Tuesday 10th September 7:30pm (WI) Hidden Stories of Nursery Rhymes
Saturday 14 September Historic Churches Trust 'Ride and Stride,'
Tuesday 17th September 7:30pm CPR & Defibrillator Training
Tuesday 17th September 2pm (Over 60's) AGM & poems

OCTOBER
Tuesday 1st October 2pm (Over 60's) Meal at the Chequers
Sunday 6th October 9:15am Harvest Festival at St. Britius
Monday 7th October 7:30pm Parish Council Meeting
Tuesday 8th October 7:30pm (WI) WODC Recycling
Friday 11th October 7:00pm Pub Quiz at the Chequers
Tuesday 15th October 2pm (Over 60's) Seated exercise
Saturday 26th October poppy collection starts

NOVEMBER
Monday 4th November 7:30pm Parish Council Meeting
Tuesday 5th November 2pm (Over 60's) Talk on Cotswold Sheep Trade
Thursday 7th November Bonfire Night event on the Rec
Sunday 10th November 10am Remembrance Service and Wreath laying
Tuesday 12th November 7:30pm (WI) Fabric Baubles
Friday 15th November Newsletter deadline
Tuesday 19th November 10:30am (Over 60's) Coffee Morning

DECEMBER
Monday 2nd December 7:30pm Parish Council Meeting
Tuesday 3rd December 2pm (Over 60's) Flower arranging
Tuesday 10th December 7:30pm (WI) Christmas Lunch
Tuesday 17th December 2pm (Over 60's) Christmas meal @ The Trout

ST. BRITIUS
Weekly Wednesday Fellowship 12.30pm to 1.30pm
Sunday St. Britius' Church services start at 9.15am
Wednesday evening Holy Communion service at 7.00pm